The Most Challenging Show of the Year
Dec 01, 2022
Overcoming the most challenging show of the year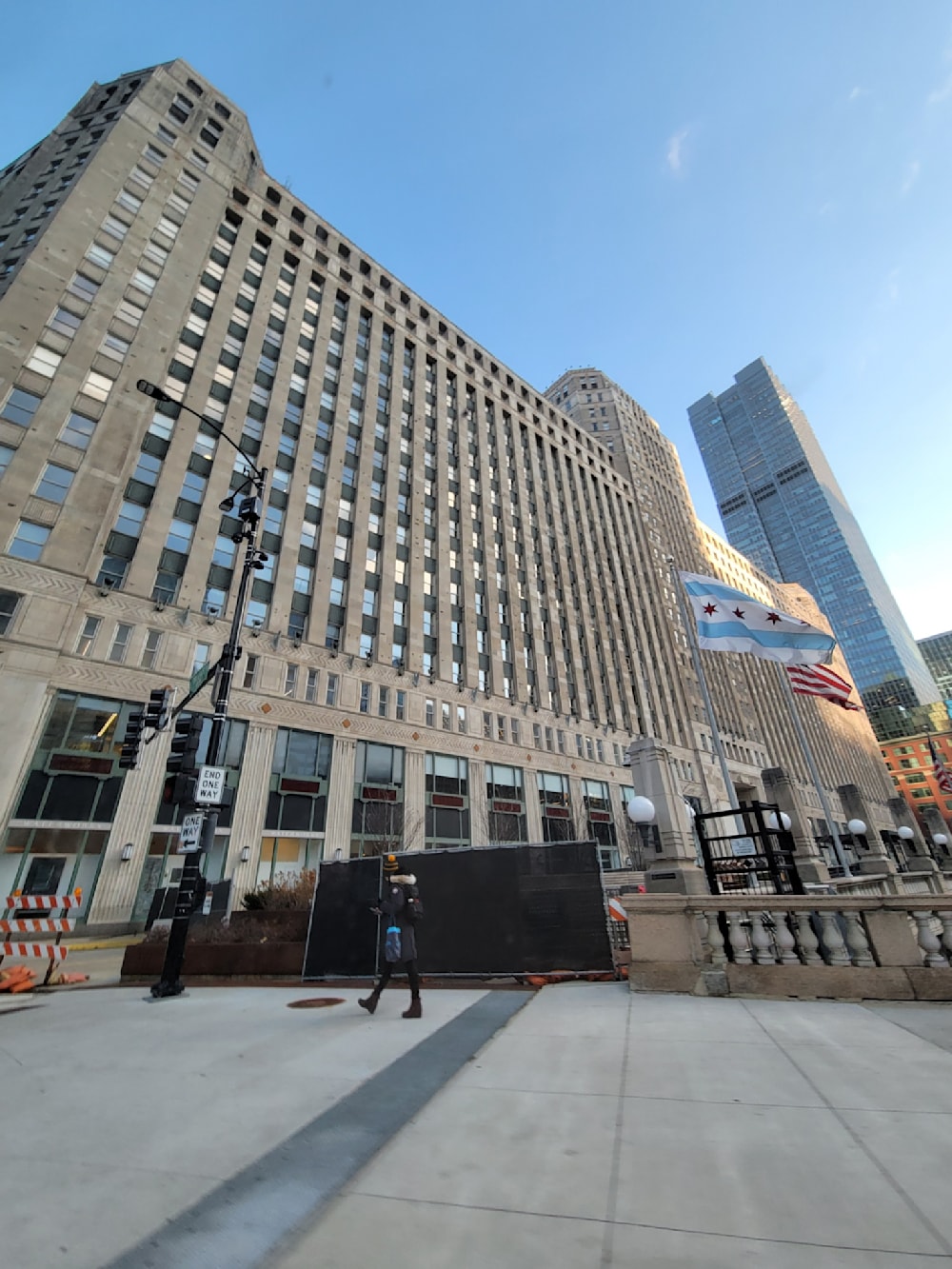 The Merchandise Mart, Chicago, IL, December 2022
The One of a Kind Show in Chicago (OOAK) is one of the largest artist-maker fairs in the Midwest. It's on the 7th floor of the Merchandise Mart, which makes getting there a bit different from outdoor shows. The show is set up like no other show I know of for makers in the Midwest. It's one the biggest, with 500 makers ranging from artisan jewelry and haute couture clothing to unique gifts and wall art.
There are five significant challenges to this show. This is a behind-the-scenes view of how I overcame four of the five challenges.
1. Check in any time, but you can't leave
The Merchandise Mart building in Chicago rents artists a 10x10' booth space for $2600 for four days. At the Mart, someone unloads the car for you, takes it up seven stories, and drops it in your booth. Check-in is easy. However, leaving is very difficult. You must wait for the staff to get your (and 500 artists') stuff and bring it down the seven stories. In my case, I was on the list for 9 pm… 4 hours after the show closed!
Waiting 4 hours after the show closes is pure torture. That's the biggest challenge of this show.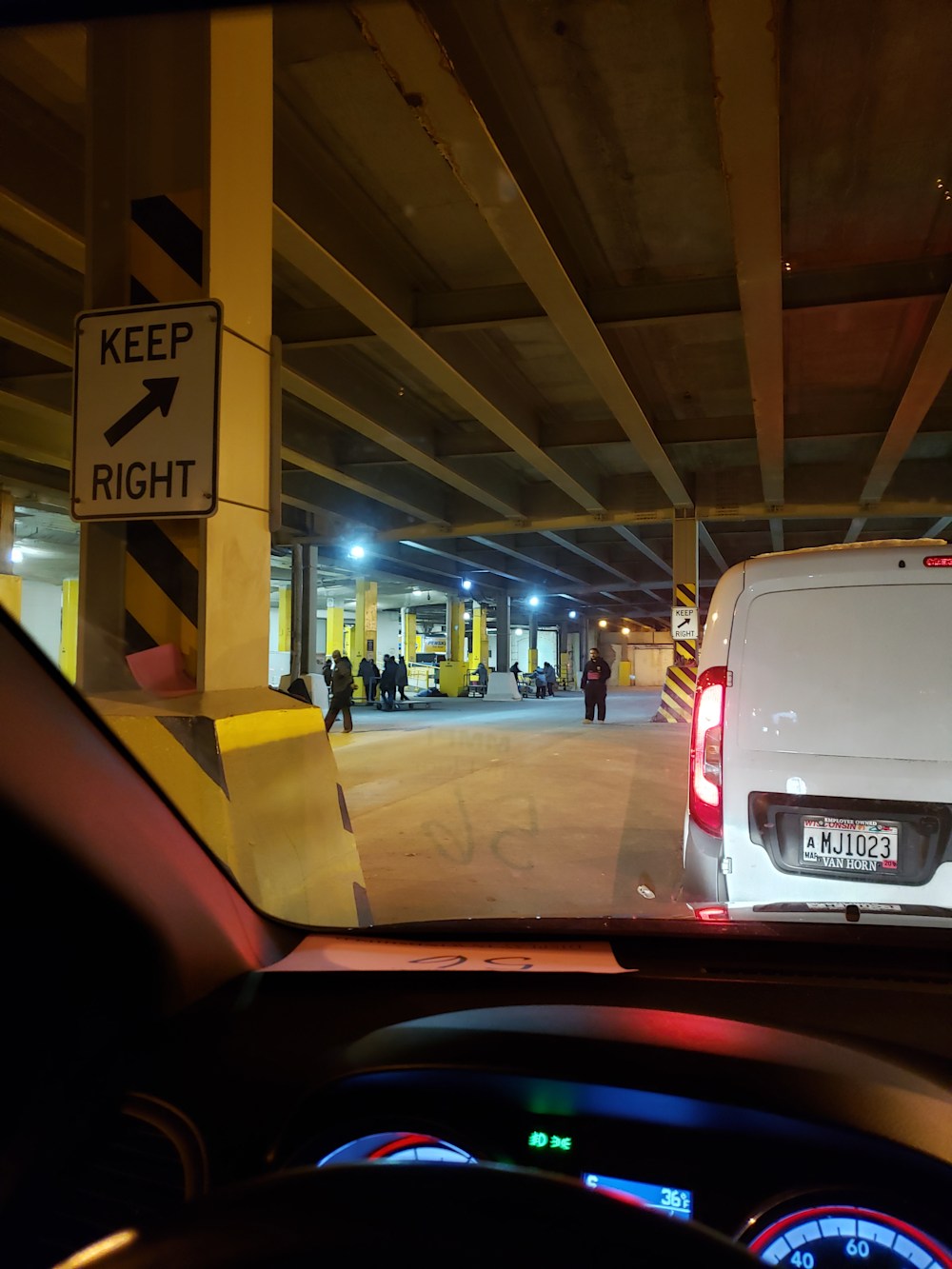 Waiting for the staff to unload cars under the Mart, 2019
I was not going to wait that long. But how? My entire booth had to be designed for a disposal display and minimal so that I could leave the building with all my art in suitcases. Dollies and utility carts are not allowed in the elevators. How do you create a $2600 booth to be disposable? -And easily transportable? The solution was wall-fastened hangers, magnetic frames, and a disposal cardboard cash wrap.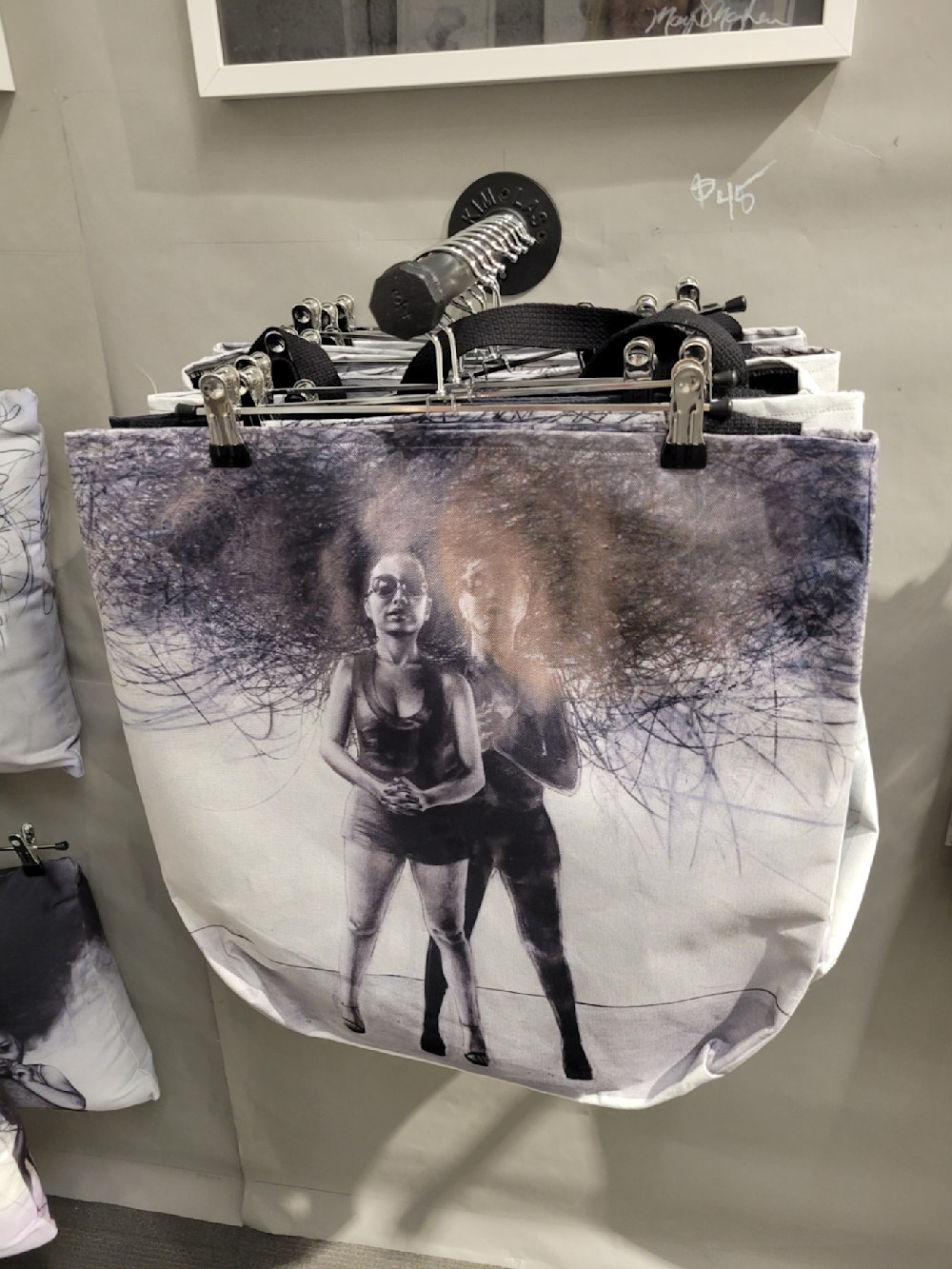 Wall-mounted shelf hangers used as tote bag display fixtures
That unique design would allow me to leave the show when I was ready (i.e., not wait till 9 pm – 4 hours later) in 4 suitcases and one dolly. So, on Sunday, at noon, my husband took all the overstock and 24x36" paintings (which weren't selling) to the car. Then, as soon as the show closed at 5 pm, my husband, two kids, and I all worked fast to unscrew all the screws, tear down the paper and pack up the artwork in the four suitcases and dolly. We were packed and out of the show in 30 minutes. Our commute time was an hour, so we were home by 6:40 pm. Halleighlua!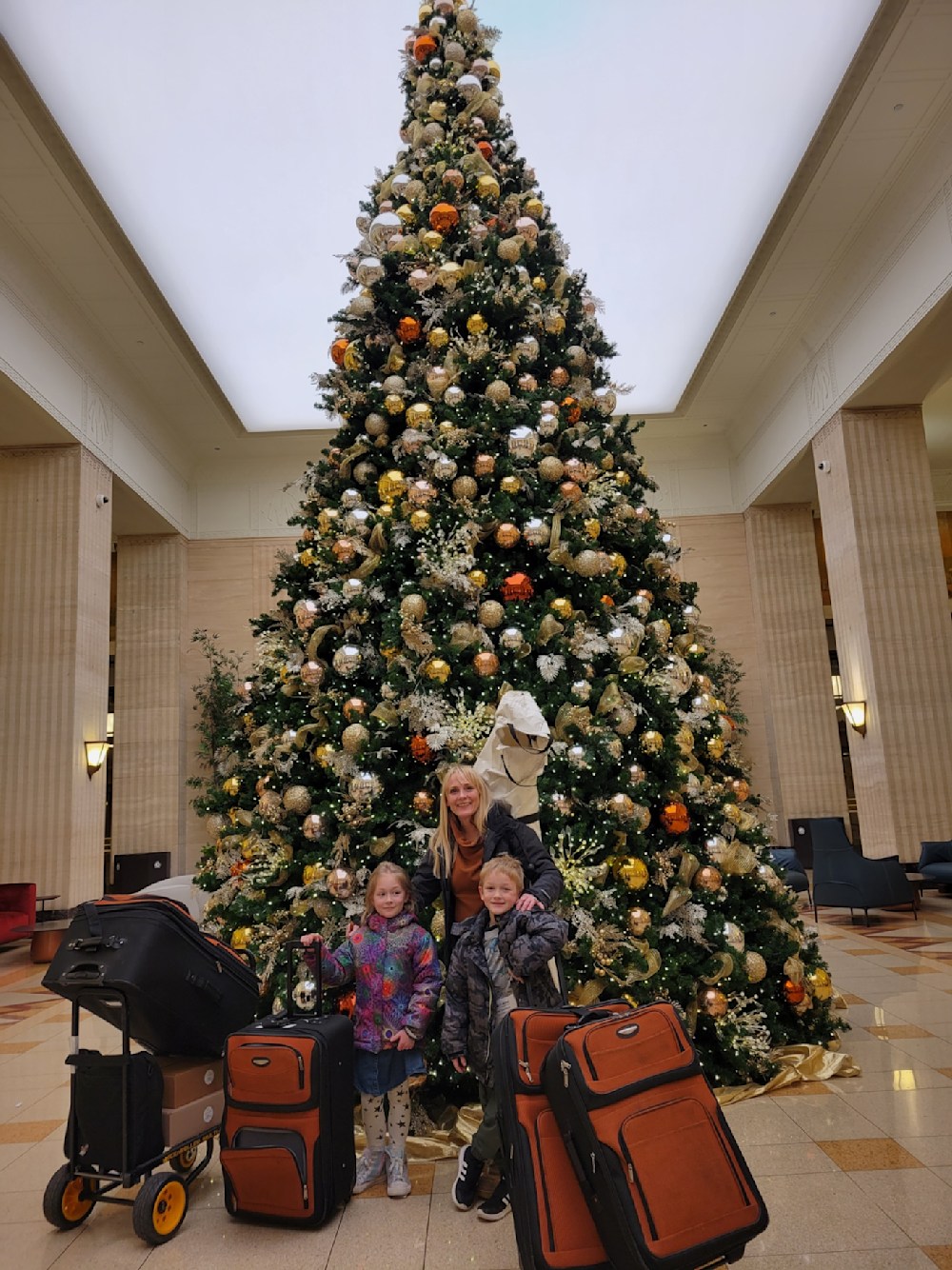 Mays and kids with four suitcases filled with art
2. Install the booth quickly
Time is precious. A significant challenge is installing a booth with two little ones underfoot and a reluctant partner. However, one of the things I was most impressed with was the booths at the OOAK show. EVERYONE's was professional and cool looking and just oh so functional. So, with that in mind, my solution was to completely design the layout and space before I got to the show.
Pre-design the booth on paper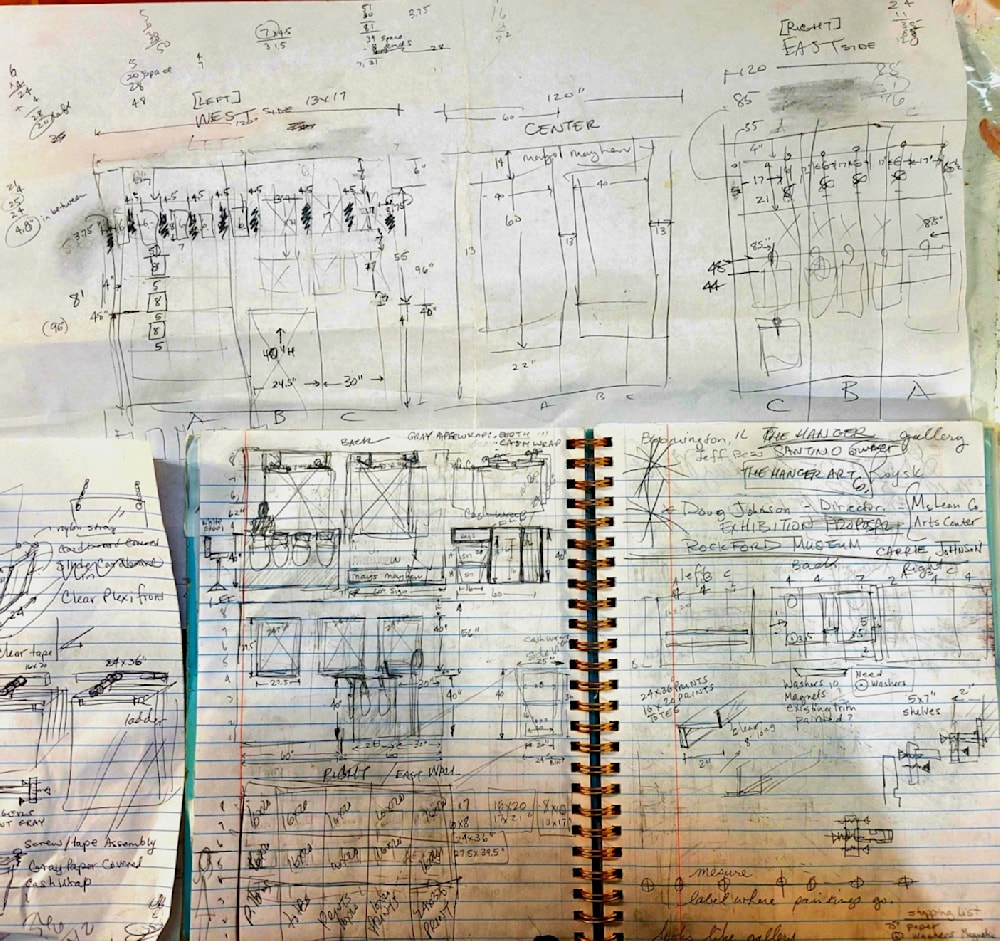 I bought gray background paper to draw out the spacing and where to put the screws and paintings. Any paper would have done, but since all my work is white-framed and monochromatic, gray suits my art the best.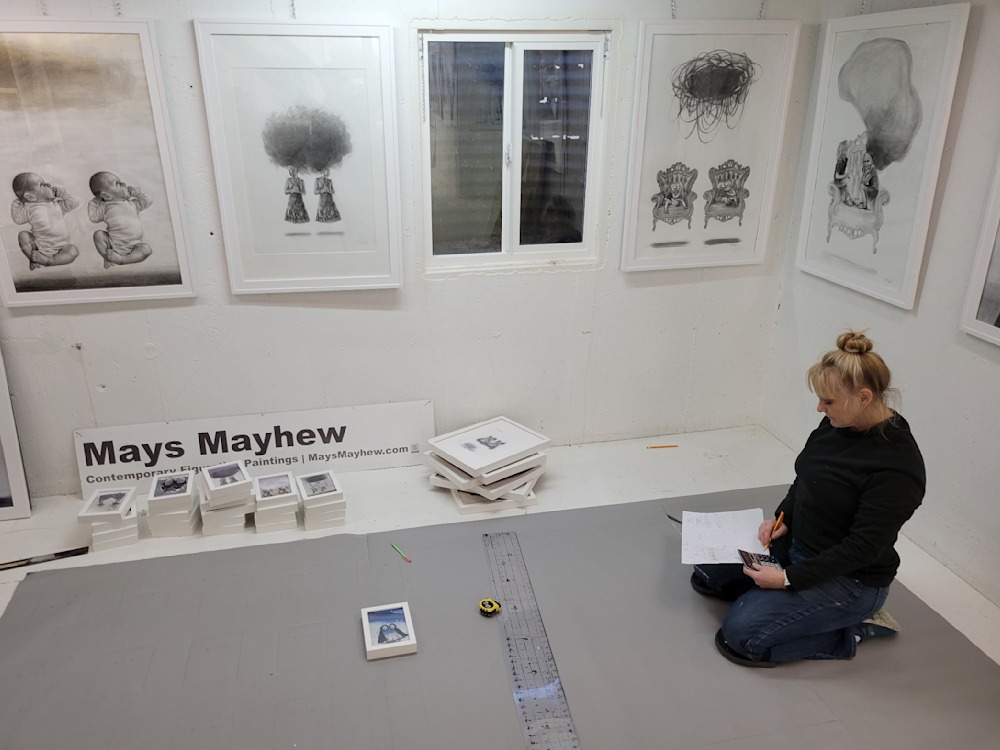 In my studio, before the show, I laid out three 10-foot walls on the floor. I calculated the measurements of the paintings and spacing. I marked up the layout on gray paper. I laid out the actual paintings on paper, measured consistent spacing, and made all the markings for the screws to hang the paintings. When we got to the show, even my 7 and 8-year-old kids could put the screws in the wall. It was straightforward once we got there. The result was that we put up the booth in 4 hours.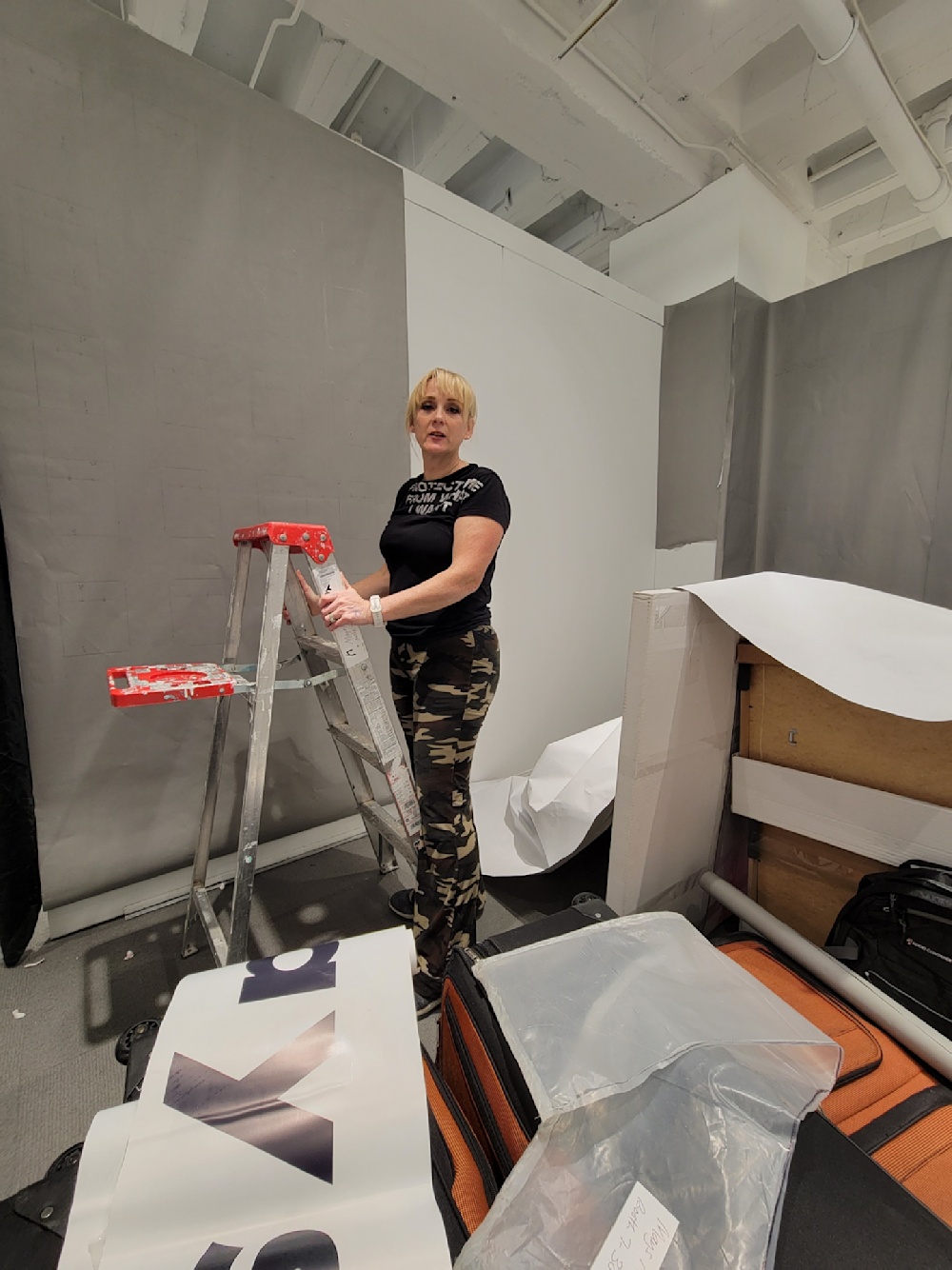 Putting up the paper on the rigid walls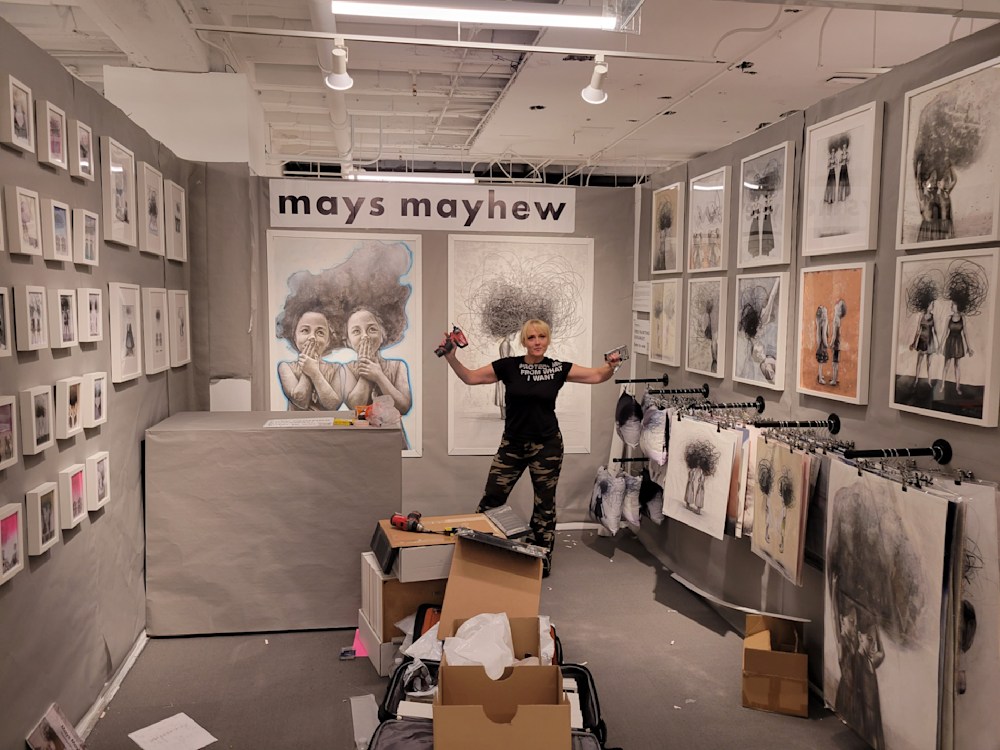 Almost done
3. Booth storage
The third big challenge of the One of a Kind Show is transport boxes and overstock storage. I estimated that I would sell 80 pieces at this show. Eighty works of art would not fit on the wall; even if they did, they would create paralysis of analysis. How does one store empty boxes and overstock without paying $150 for the rental of storage space? Empty box storage was available, but then I'd have to wait for their staff to give it to me at 9 pm. That was not going to happen. Time is money. I remembered that I would have to dolly out of the show, take an elevator seven stories down, and walk two city blocks to parking. Solution: I made a disposal cash wrap big enough to house the empties and overstock. It was 40 inches tall by 48 inches wide. I am 62 inches tall, so it was pretty big.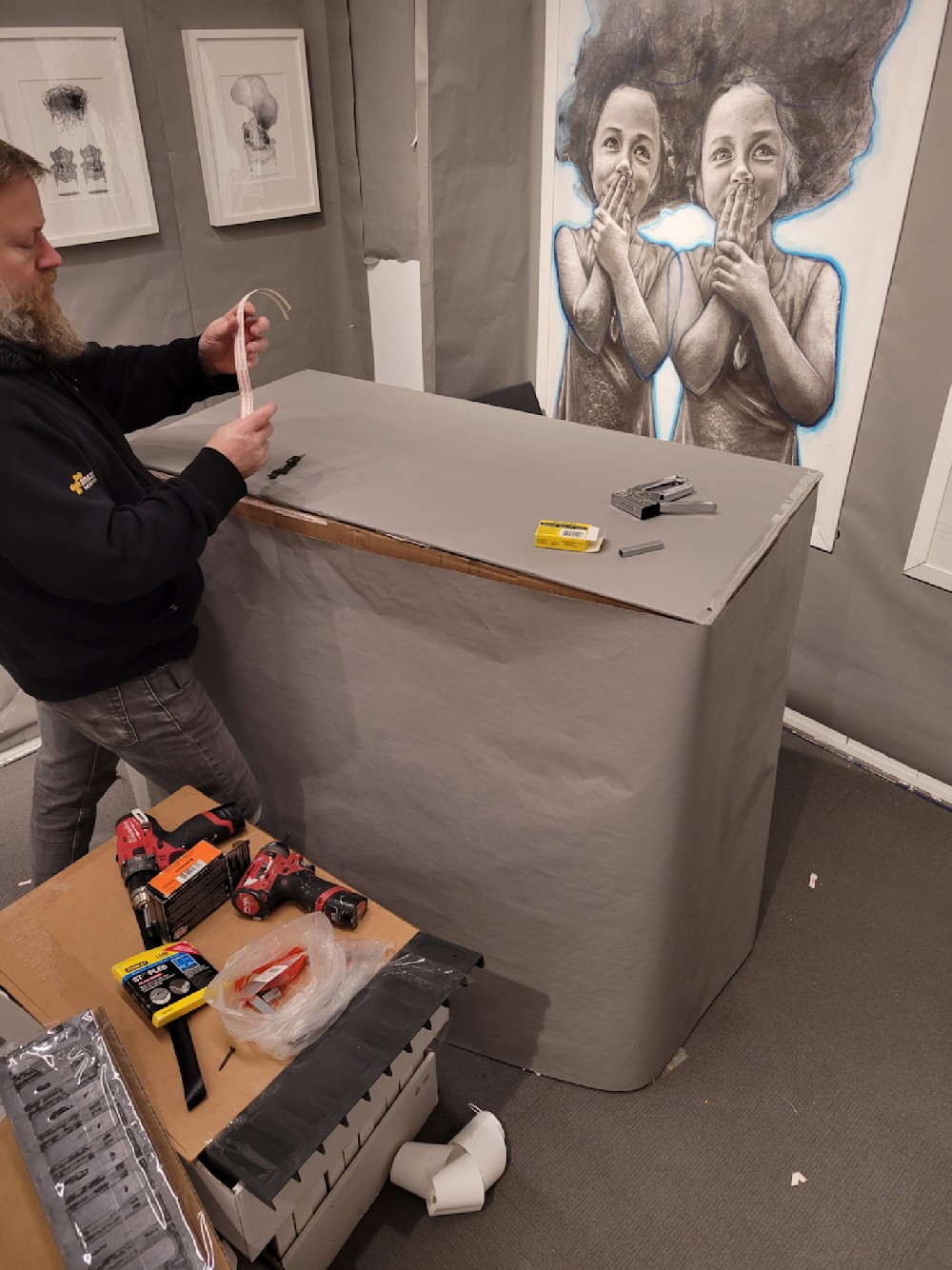 My husband putting together the disposable cardboard cash wrap
4. Giftable art
The One of a Kind Show is known for being a gift show. It is in December. OOAK attracts a lot of people looking for unique gifts, clothing, and jewelry. How was I going to compete with that? The solution was that this year I made tote bags ($45) and pillows ($45) for the show.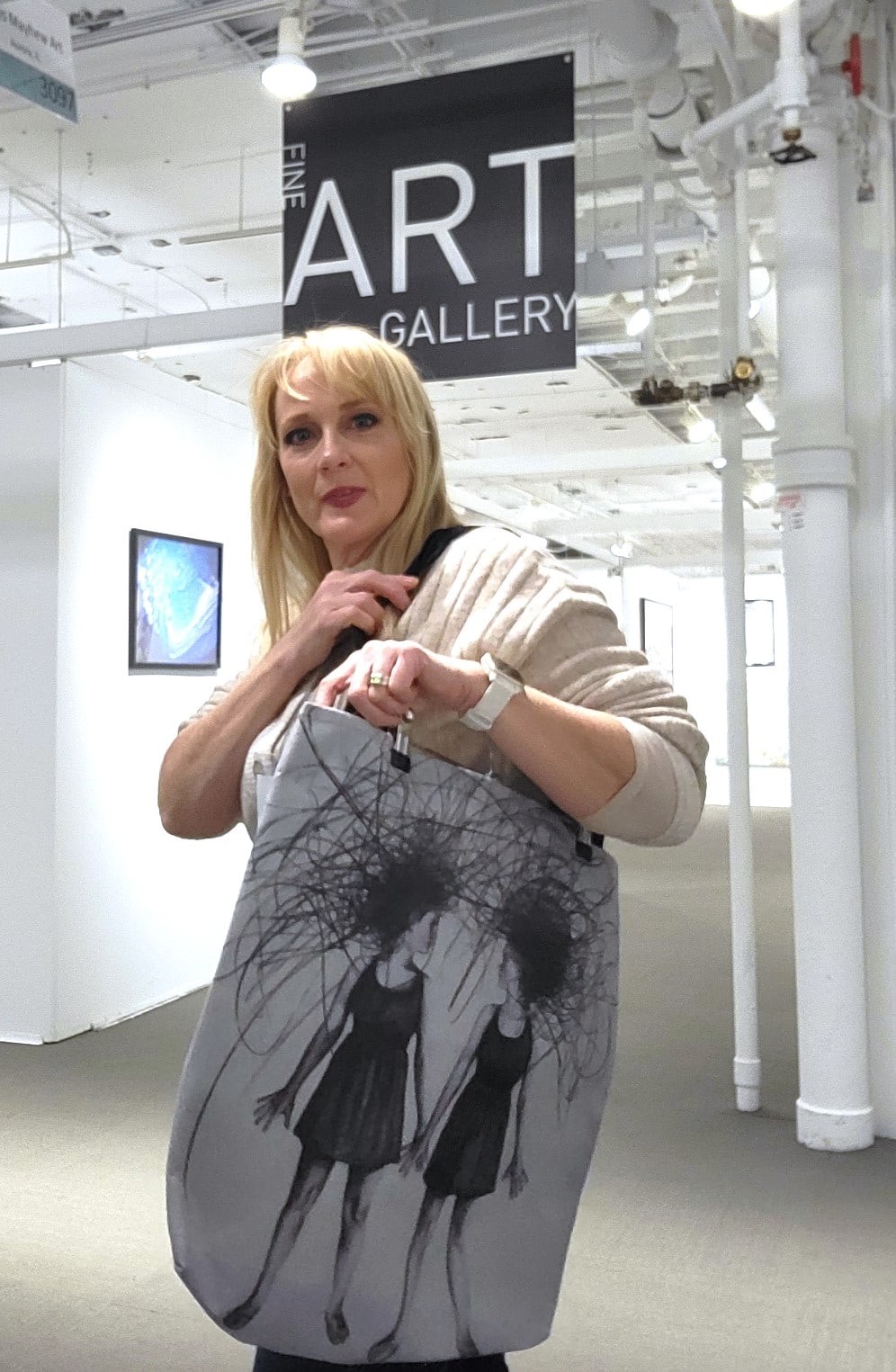 I also added a new size, 8x10" ($150). I sell a lot of minis (5x7") sizes during the year. I created 80 new minis just for the show. Usually, the 40x60" size is my second-best seller at outdoor shows, so I made five new ones for the show. However, I did not sell any 8x10 or 40x60" sizes at the show. I have two pending after-the-show 40x60" artworks as of this writing.
In summary, my average sale was $97. Of the 25 pieces, I sold the following breakdown:
55% minis - 5x7"
20% middle size - 16x20"
10% Tote bags - 18x18"
10% Pillows - 14x14"
What didn't sell: 8x10 "s, 24x36", or 40x60" size (2 pending 40x60" artworks as of this writing)
5. Return on Investment?
All summer long, I have been promoting this show. I have been consistently promoting my art online and in person. I have been building my collector lists and cultivating my relationships with them. I do 25 outdoor shows a year. For the last four months, I have offered free complimentary tickets at my outdoor shows. I usually do not wait for a promoter to promote the show. I promote the show to my collectors because I don't want to be out the $2600 booth fee. Fear is a good motivator. The reward of a good show is a better motivator. I've promoted OOAK on my social media weekly. I used my email VIP list and offered them all free tickets. Before the show, I gave out 300 free tickets. I made nine personal appointments at the show.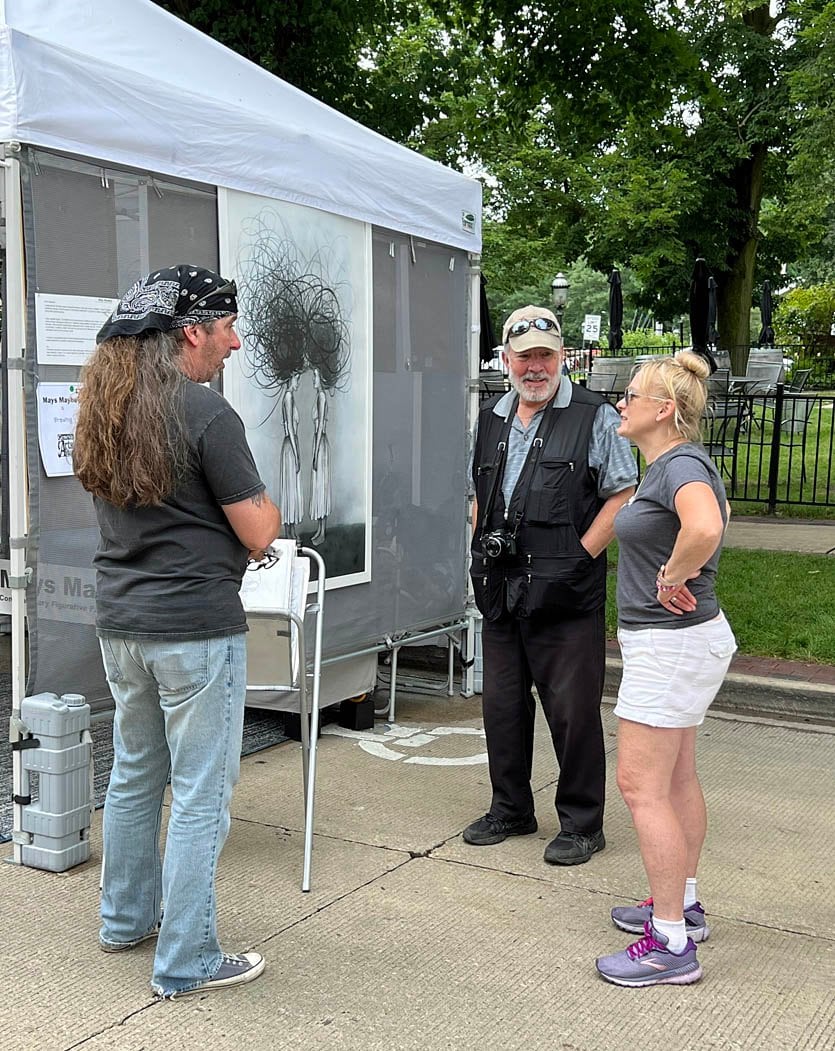 Mays asking friends to go to the One of a Kind Show in July
In hindsight, passing out 300 tickets and personal invites did work to bring my friends and collectors to the show. I built a lot of relationship equity with my collectors, which is always a pleasure. I love seeing my collectors and catching up with what they're doing, so it was an extremely fun fair. I loved seeing everybody. However, only 3% of them purchased any artwork. Financially, I was not able to cover my expenses at this show. That said, art is a long game, and I regularly sell art after the show.
Did I make a profit at One of a Kind? No.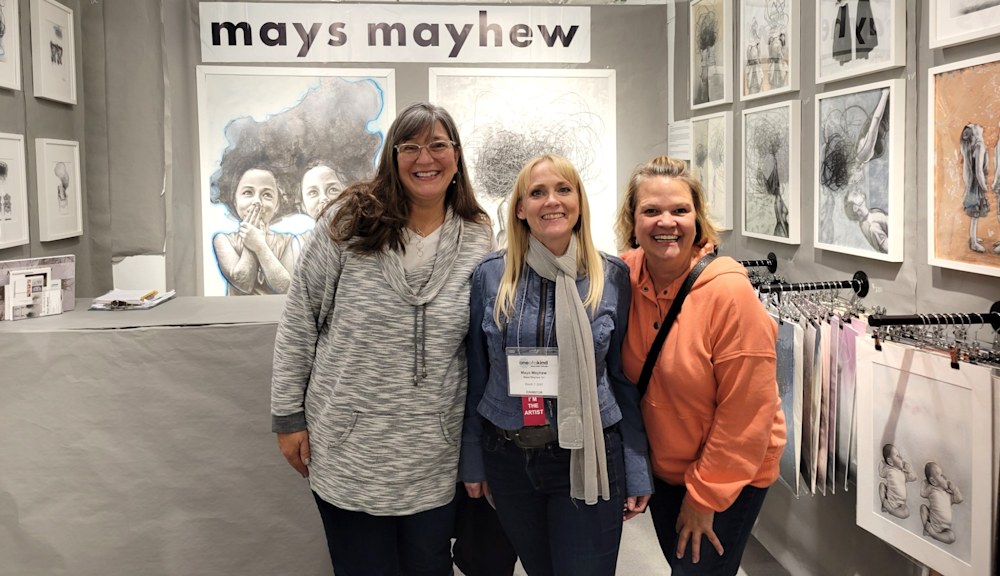 Epilogue
The One of a Kind show is not for the contemporary fine artist. I tried my best to bring people in. I don't think I could have done anything different to change my outcome. They had a Fine Art Gallery filled with beautiful one-of-a-kind wall art. They WANT one-of-a-kind art at the show. However, in practice, that is not what this show has. -And that is not what sells at this show.
Sadly, most of this show is NOT one of a kind.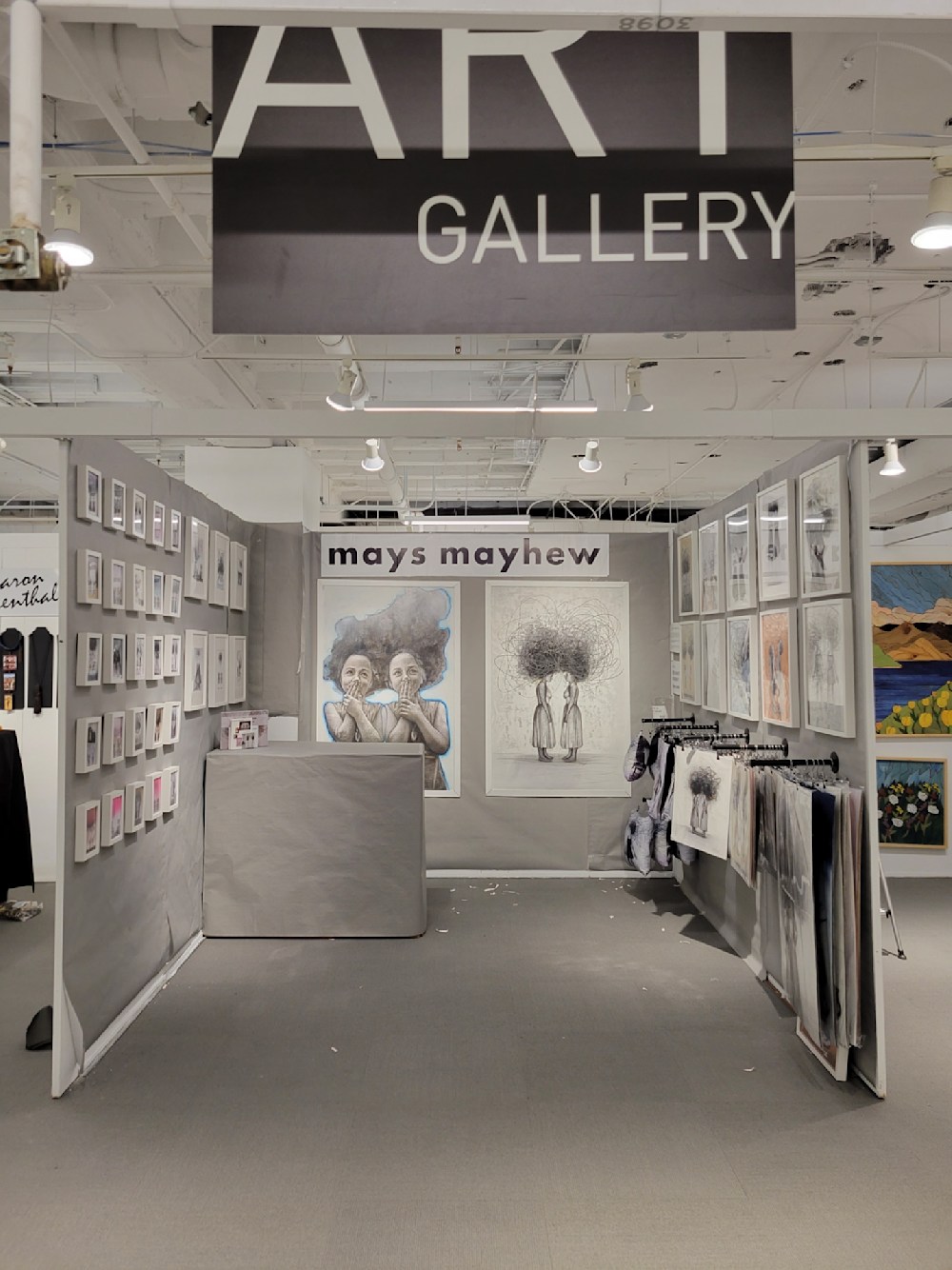 Where:
The Merchandise Mart, Chicago, IL

When:
Dec. 1 - 4 / Th - Sat 10-7 pm / Sun 10-5 pm

I was at Booth 3097, located next to the Art Gallery in the show's center.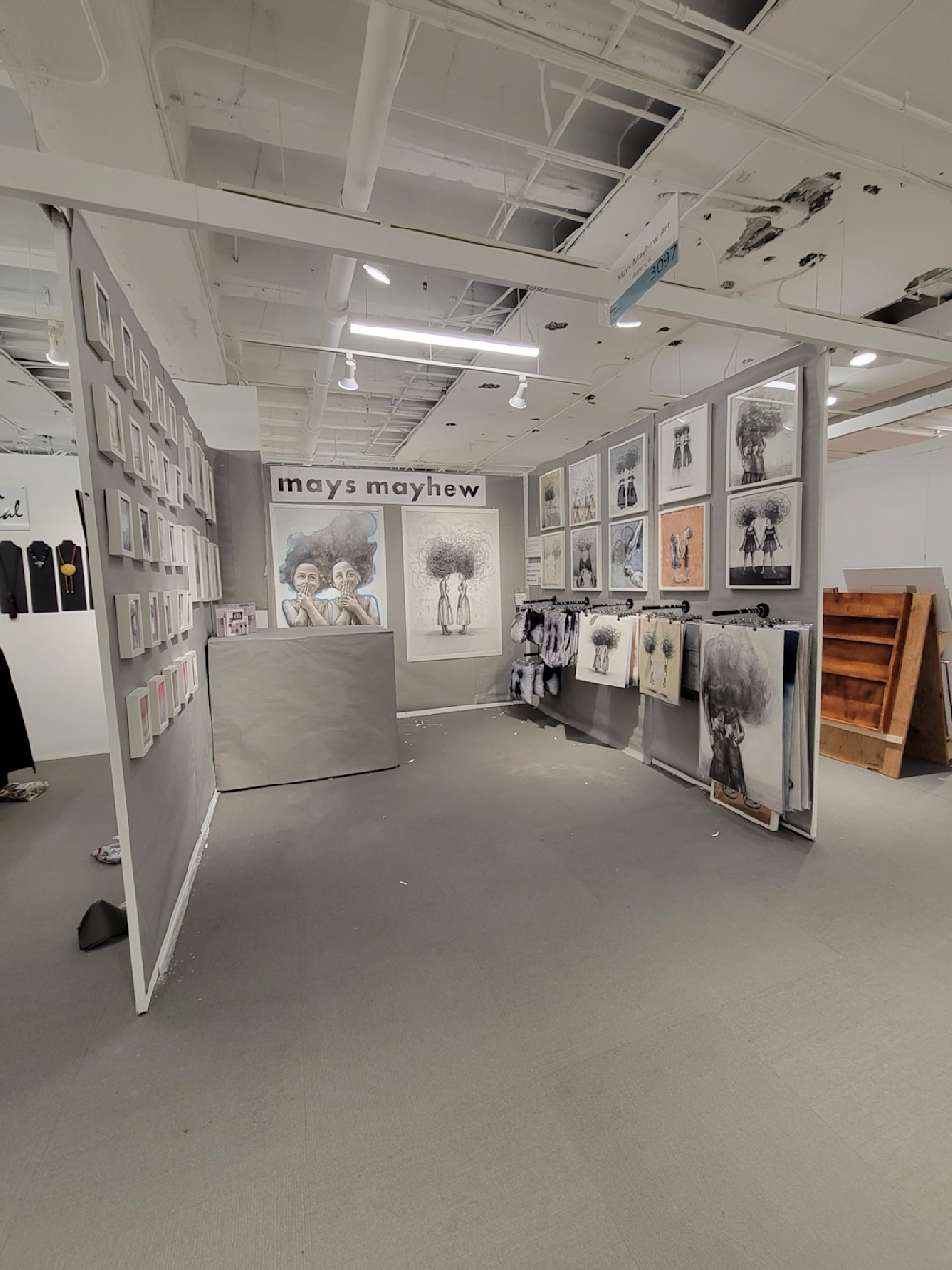 If you liked this article, please share it with a friend. It may help an artist considering doing a big indoor show like OOAK. Thank you again.
For more information about Mays Mayhew's events and shows, click here.
Connect with Mays on:
If you enjoyed this post, I'd be grateful if you'd share it.