The Art of Being Productive [Artist-Homeschooler Schedule]
Apr 01, 2022
Part 2
The Art of Being Productive [Artist-Homeschooler Schedule]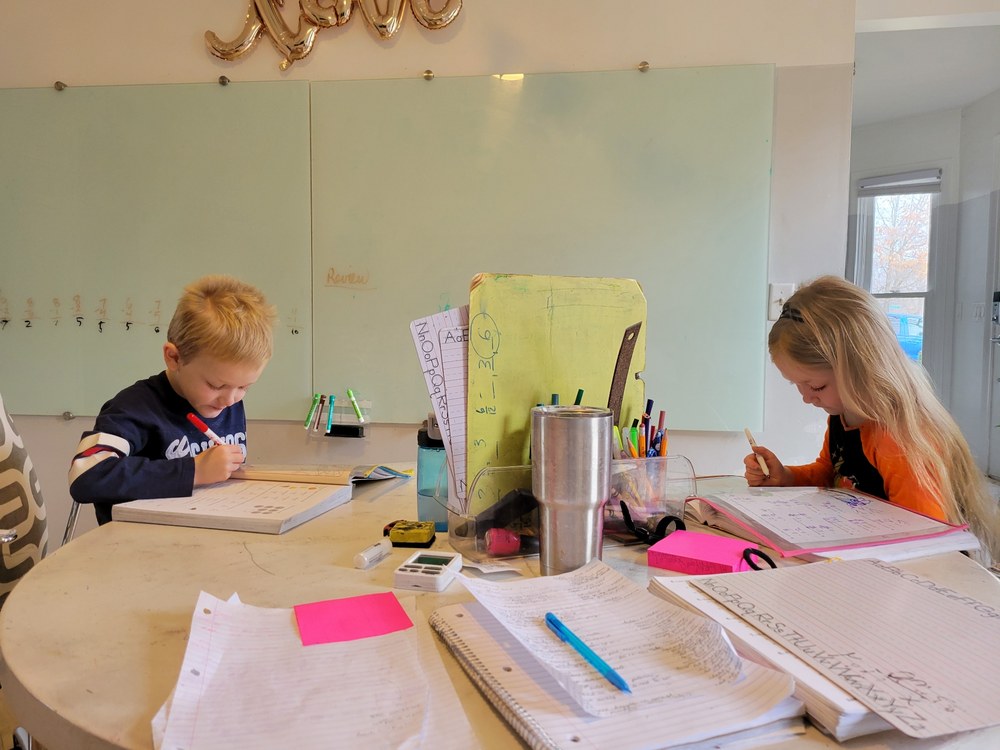 Last year I created 500 artworks, sold 225 paintings, did 24 art shows, homeschooled 2 kids, managed a garden and fulfilled domestic obligations.
Artist friends frequently ask, "What's your routine?" "How do you get the art all done?" "How do you homeschool?"
I am a mother and an artist and I never felt like the two were incompatible. Just complex. So, it's in that complexity that our routine is based on. I'm not your typical homeschooler. I don't unschool. We have a schedule and this is how we do it.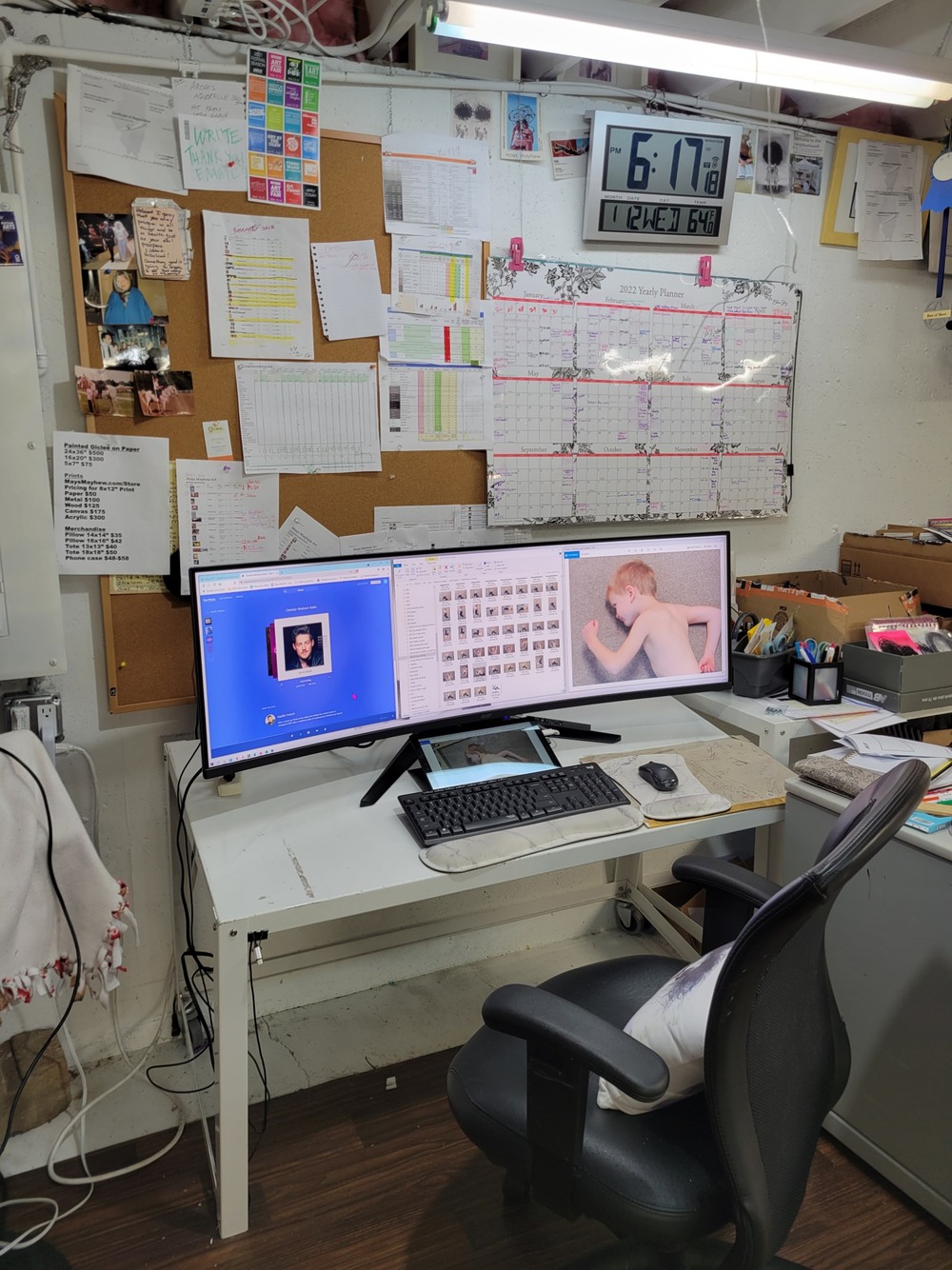 Communication
First, all four of us know the routine. We have monthly family meetings to go over what went well and didn't. We share our goals for the month. We have a central calendar. I have a dry erase art calendar that shows all of the show dates and I constantly refer to it. The kids are accountable for their chores and responsibilities. I try to delegate so I don't have to do it. I don't have time to micro-manage, I'm more of a "teach a man to fish" type parent. We also reorder priorities in its own season. We are flexible. This routine is "most of the time."
In this article I'm going to get granular with our schedule. This is the mechanics of how I manage the art business, teach homeschooling and raise two elementary aged kids.
ART BUSINESS
Generally speaking, the three art seasons I prepare for by month are: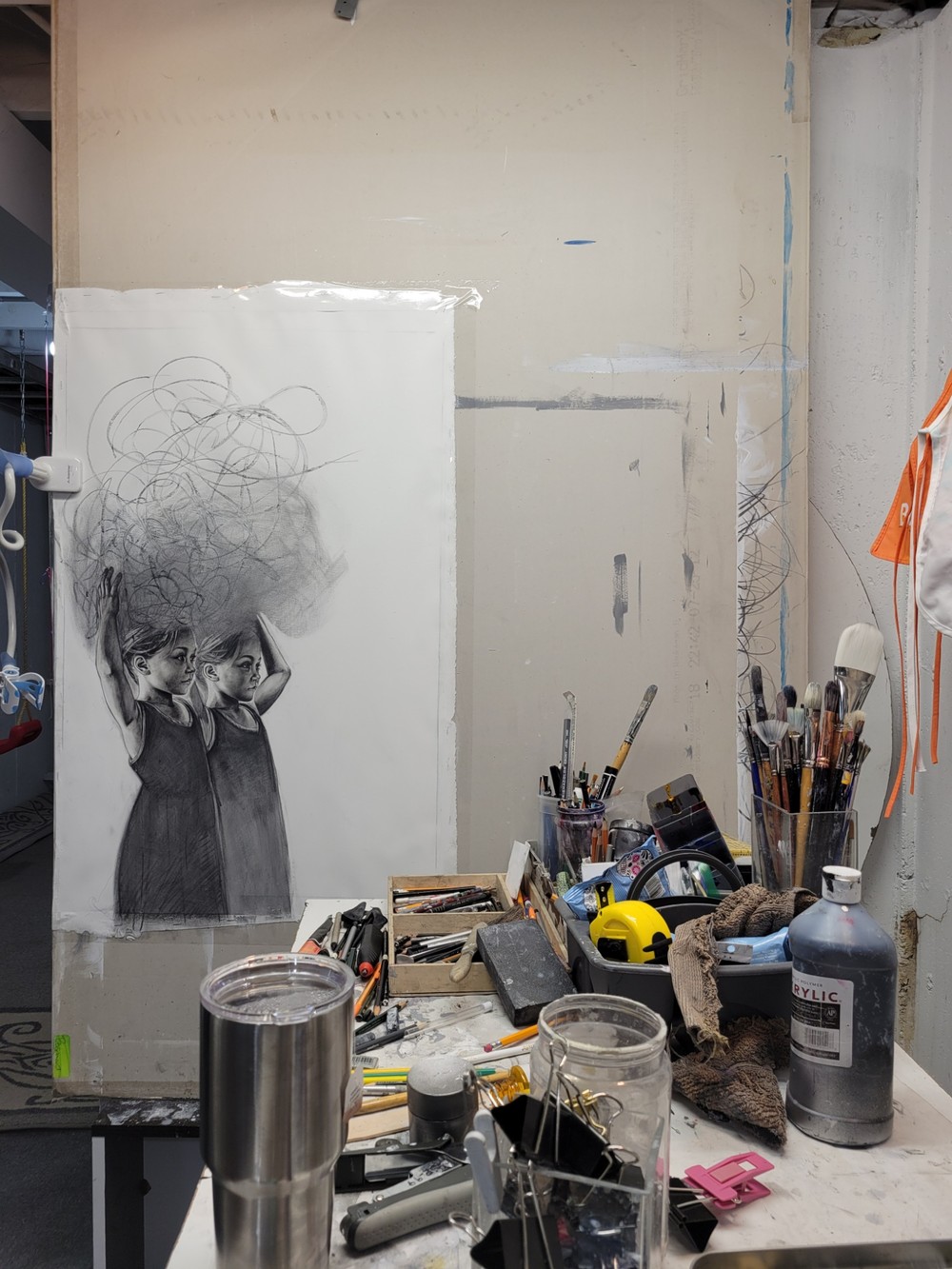 Production: Jan. – Feb.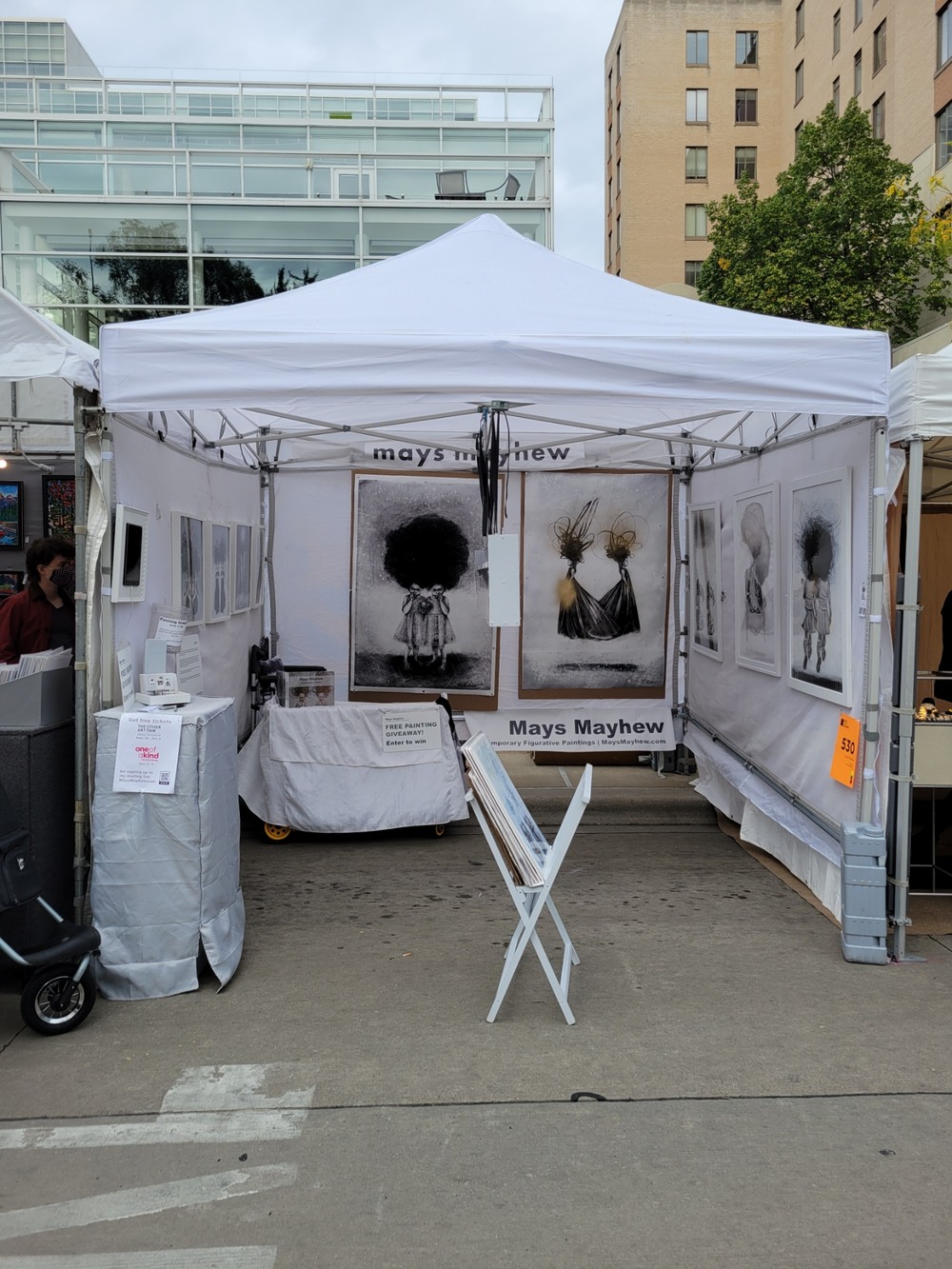 Art Fairs: Outdoor fairs May to Oct.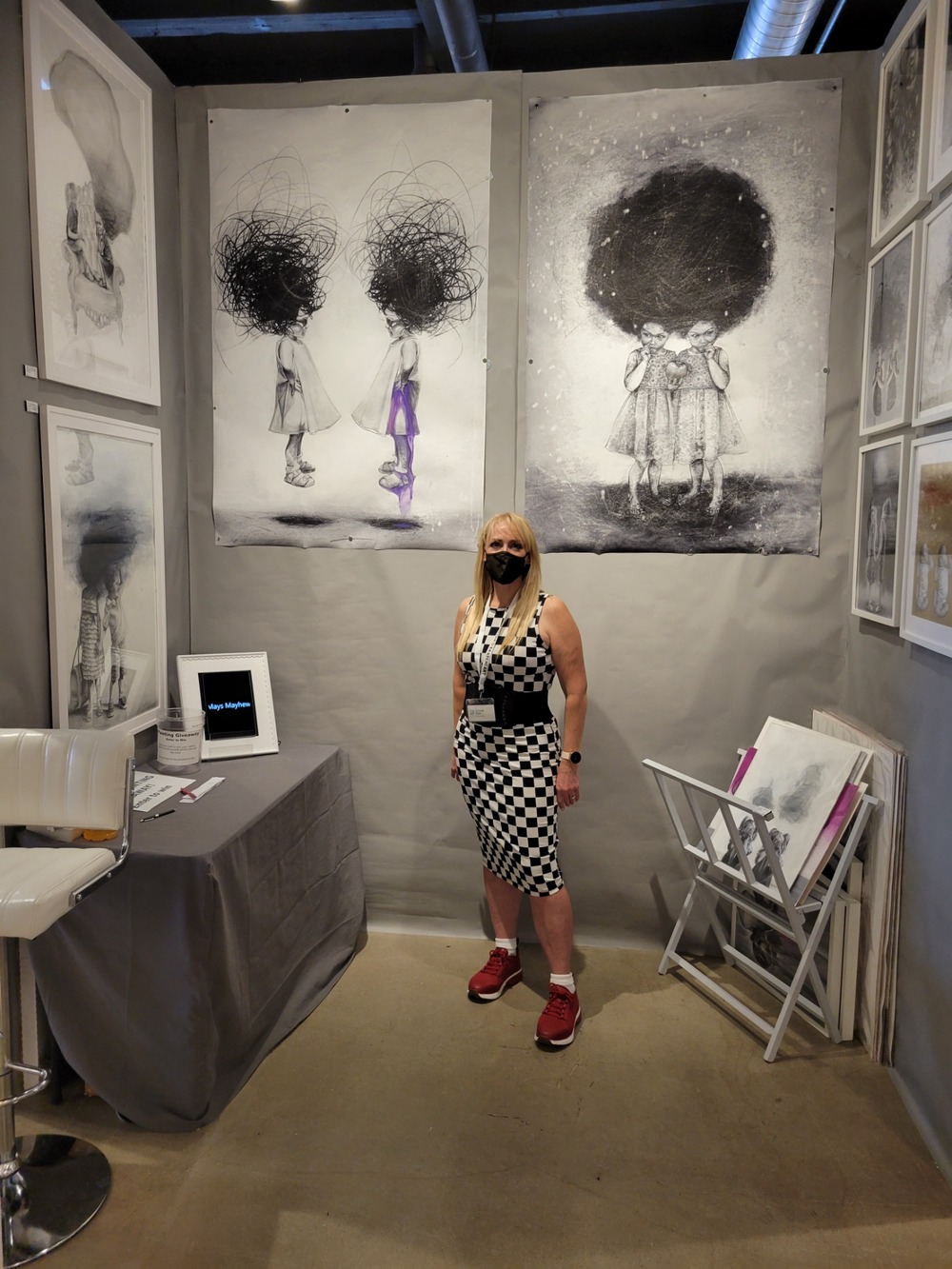 Indoor shows March – April and Oct., - Dec.
KIDS ACTIVITIES
We homeschool year around. This allows us much freedom for field trips, art classes, running club, playdates and family. We do it if we find a cool class outside the home during normal homeschooling time. If a friend asks us to go to the zoo when we normally school, we do it.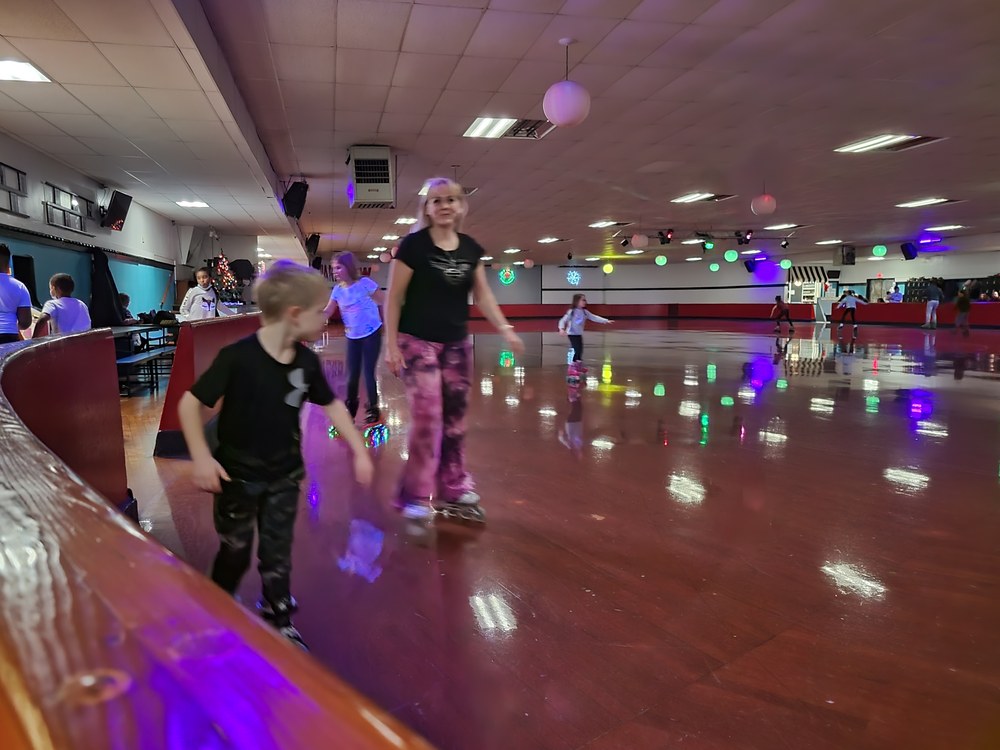 Jan. - May– Awana (kids bible club), kids art classes, indoor skating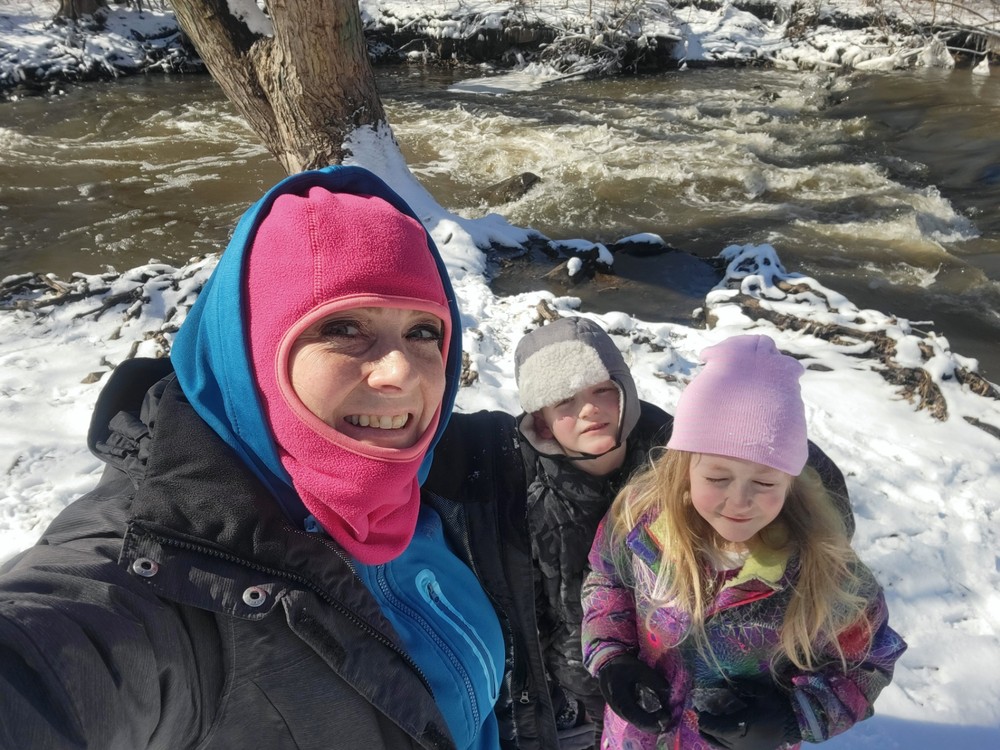 Sept. – Dec. – Awana, hiking, indoor skating, field trips to museums
ART MONTHLY SCHEDULE
My art schedule is an annual routine organized by month. Each month has a main focus. For me, I've found it too hard to do it all every month because I don't have the capacity. I prioritize. I prefer to have monthly goals regarding my studio practice. Consistency is the key to success in creating art.
Jan - Feb. - Create art (no shows)
March - Indoor art shows
April - Open studio, indoor shows, Mother's Day Sale
May - Oct. - Outdoor art fairs
Nov. - Open studio and Black Friday Sale
Dec. - Office: Plan next year's shows, prepare sales and income taxes, bookkeeping, and financial review.
BLENDING ART & KIDS - Daily Routine
If this schedule seems angelic, keep in mind that my studio time has constant interruptions. I'm ok with that. Also baked into this weekly routine is kids' classes, playdates, and kids clubs outside the home. I usually work 40+ hours in the studio a week. I homeschool 1:1 for about 25 hours during the week. We start promptly at 7. I make lunch and 11. I'm in the studio at 12. The kids do school 7a – 4p, half with me and half with their video teachers. Consistency is the key to success in creating art and teaching kids.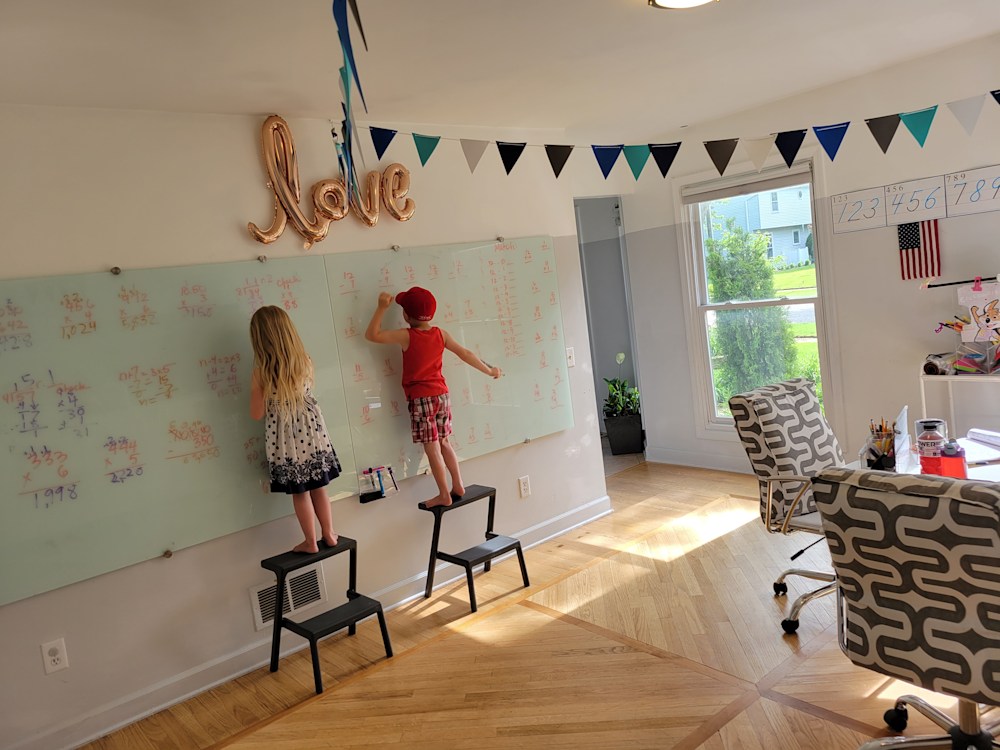 Weekday Schedule
Mon - Fri
5 – 7a - Get ready, morning chores, breakfast, yoga
7 – 11p - Teach kids 1:1, worksheets
11 - 12p - Lunch, play outside
1 – 8 p - Studio (Mays) while kids do the following:
1 – 4p - Kids watch school videos and finish homework
4 - 6p - Kids free time, AWANA (kids Bible club), art class, or run club
6 - 7p - "Daddy" plays with kids, night chores, read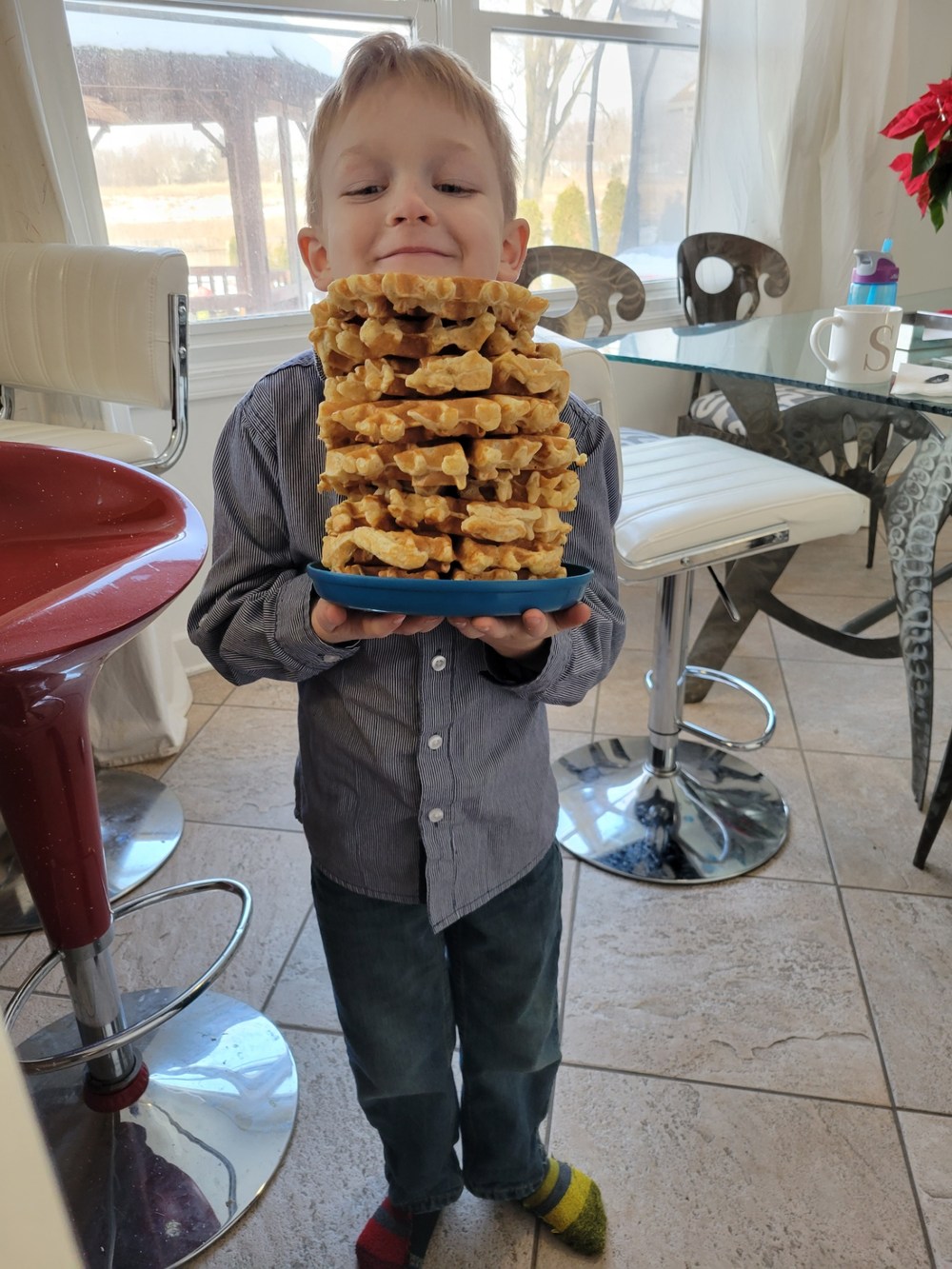 Weekend Schedule
Winter Season
Sat. - Domestic obligations
6 - 7a Walk
7-9a - Bulk cook for the week
9–11a - Weekly chores
12–5p - Studio while Daddy takes kids on errands or plays
5-7p - Family night altogether with games and a movie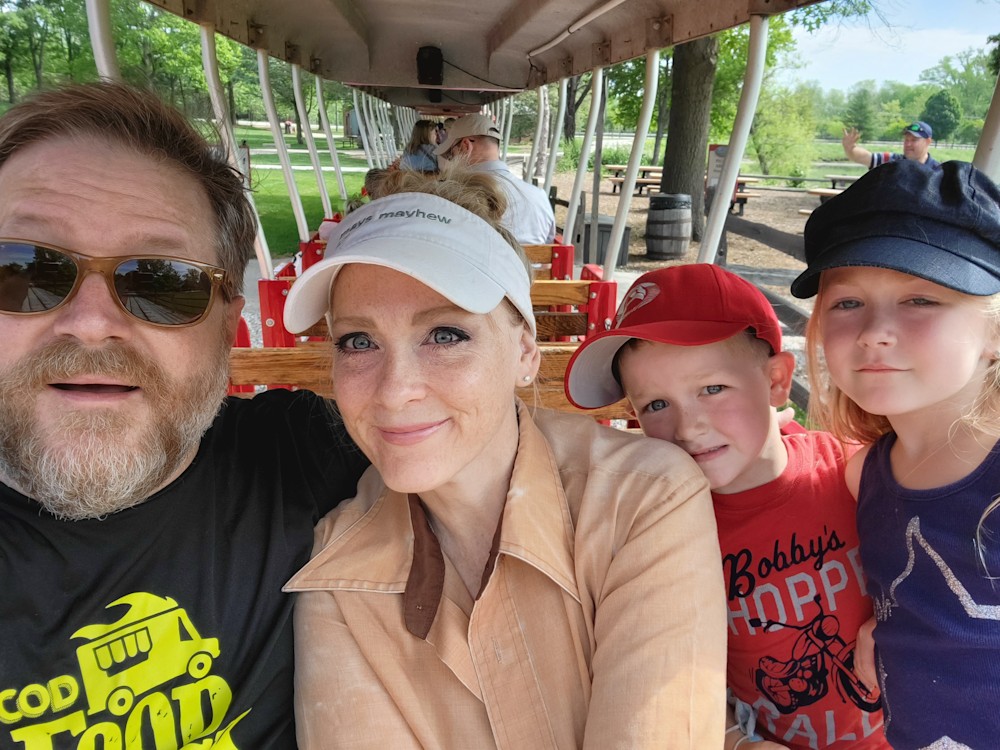 Sun. – Family Day
7-8a Walk
8-9 Bulk cook breakfast for the day and weekdays
10-12p Church
1 – 4p Skate
5 – 7p Movie and games with the family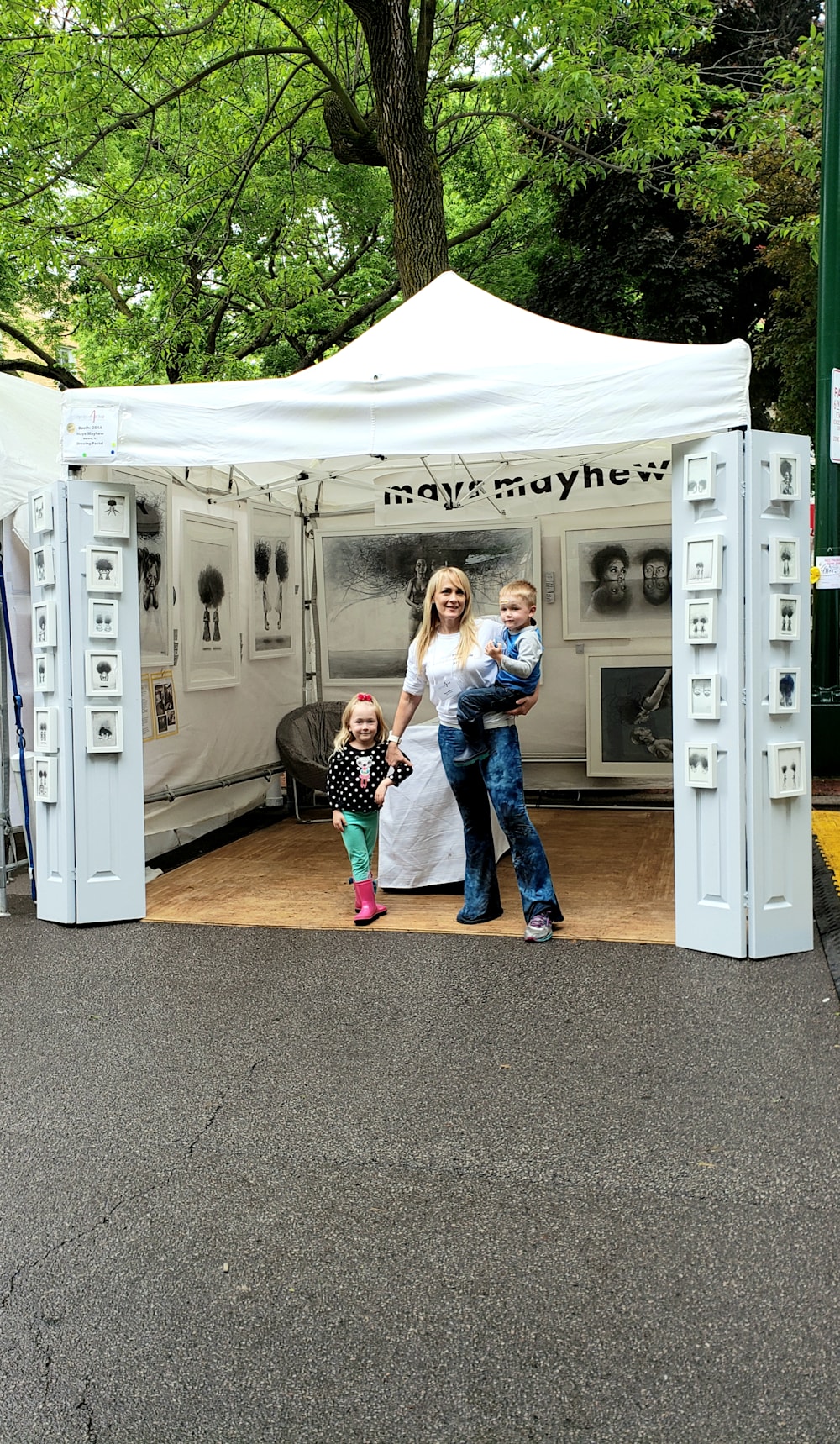 Summer Season (May-Oct.)
Thursday/Friday - Travel if a 3-day show.
Friday - Sat. – Sun. Art fairs in the summer (average 19 outdoor shows May-Sept.)
This schedule works great for our family. -Perhaps this isn't you, that's ok. -Perhaps this peek into our family's routine gave you the inspiration to create more art, empower your kids, and do more. The days are long and the years short, and I want to make the most of the time given to me.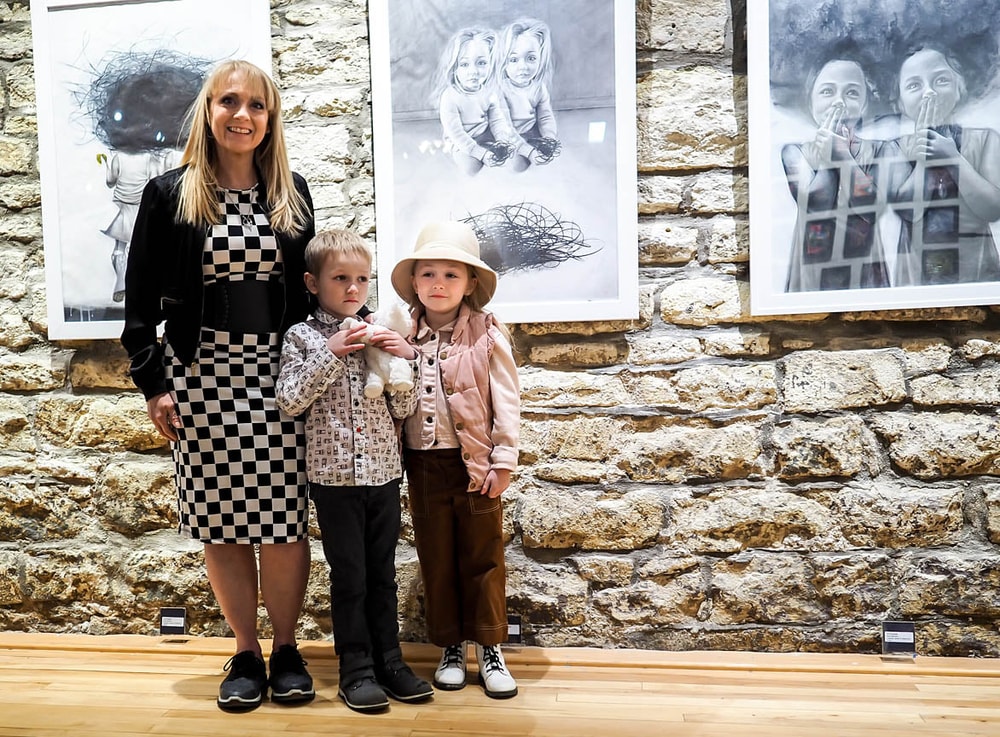 "Life is short, art long; the crisis fleeting; experience perilous, and decision difficult."
-Hippocrates.
Please feel free to share if you liked this article and think it would help someone.
www.MaysMayhew.com