How to mix oil and water [mix Art Biz & Homeschooler]
Mar 01, 2022
How to mix oil and water successfully or How to be an Artist & Homeschooler
Part 1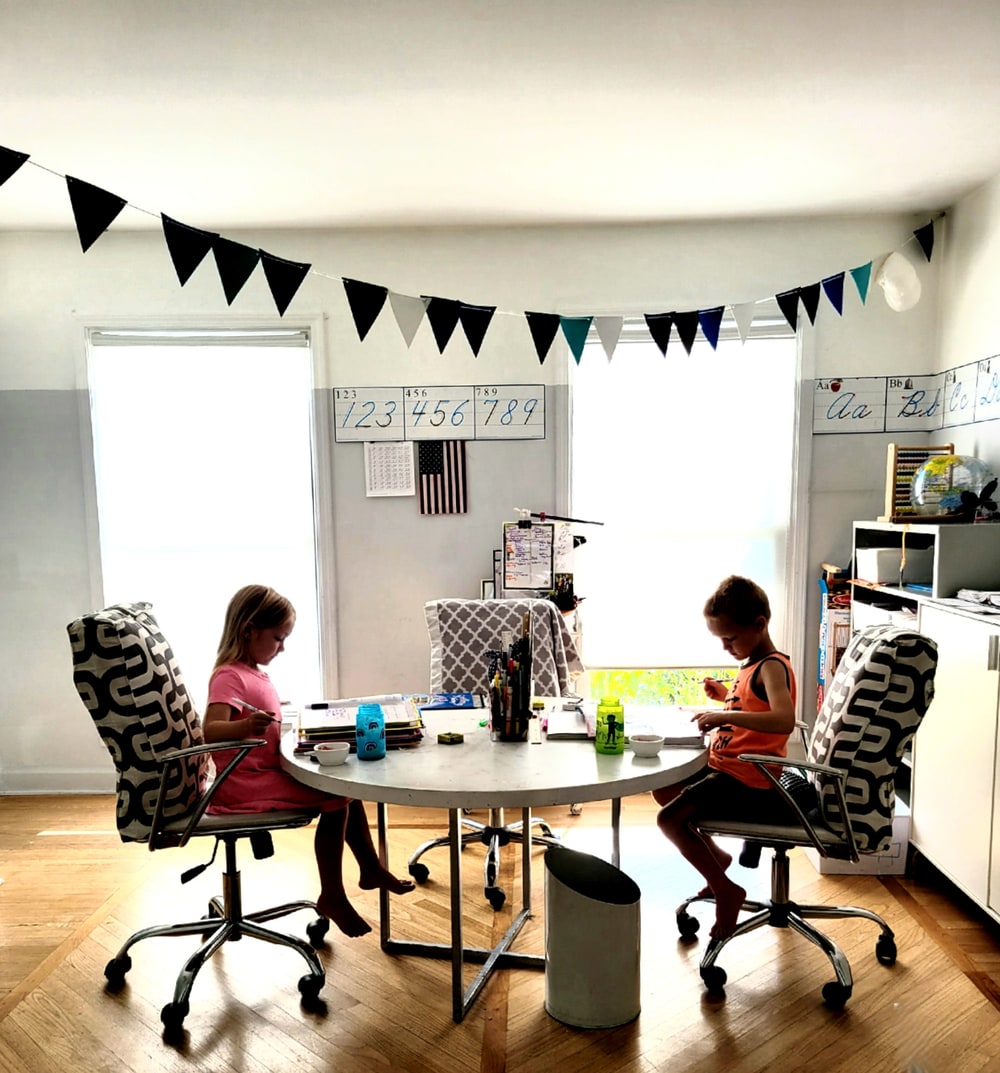 In art school, they said you couldn't have kids and be a successful artist. True art and kids don't really go together. They are like oil and water. Both need huge amounts of love, time, headspace, dedication, and perseverance.
Lately, with the huge increase of work-from-home and kids-at-home I've been asked "how do we do it" by a lot of people.
How do you get the oil and water, er, I mean kids and art to mix? Now how about adding homeschooling two kids to that oil and water un-mixable mixture?
What's hard as an artist is you're effectively running your own business. So doing that and domestic obligation while educating a 2nd and 3rd grader at home, it's difficult. However, those three can mix. I know because I've been homeschooling our two kids and managing an art business since 2018. I love it. It's kind of crazy but the perks are I'm never bored, I'm never lonely and I sleep well.
I hope that by sharing what works for us could inspire you. Here's how we make time for it all.
Have a great partner
In the book, The Millionaire Mind, Thomas Stanley states who you marry determines your success. The only way I continue to make work seriously in my art practice and make money at it is to have a partner who is equally involved in our children. He is supportive and helps. I've been an artist for 20 years. I've been married for 9. My art practice has never been this successful…. And that's with the addition of kids AND homeschooling! In short, who you marry makes a huge impact, so marry right.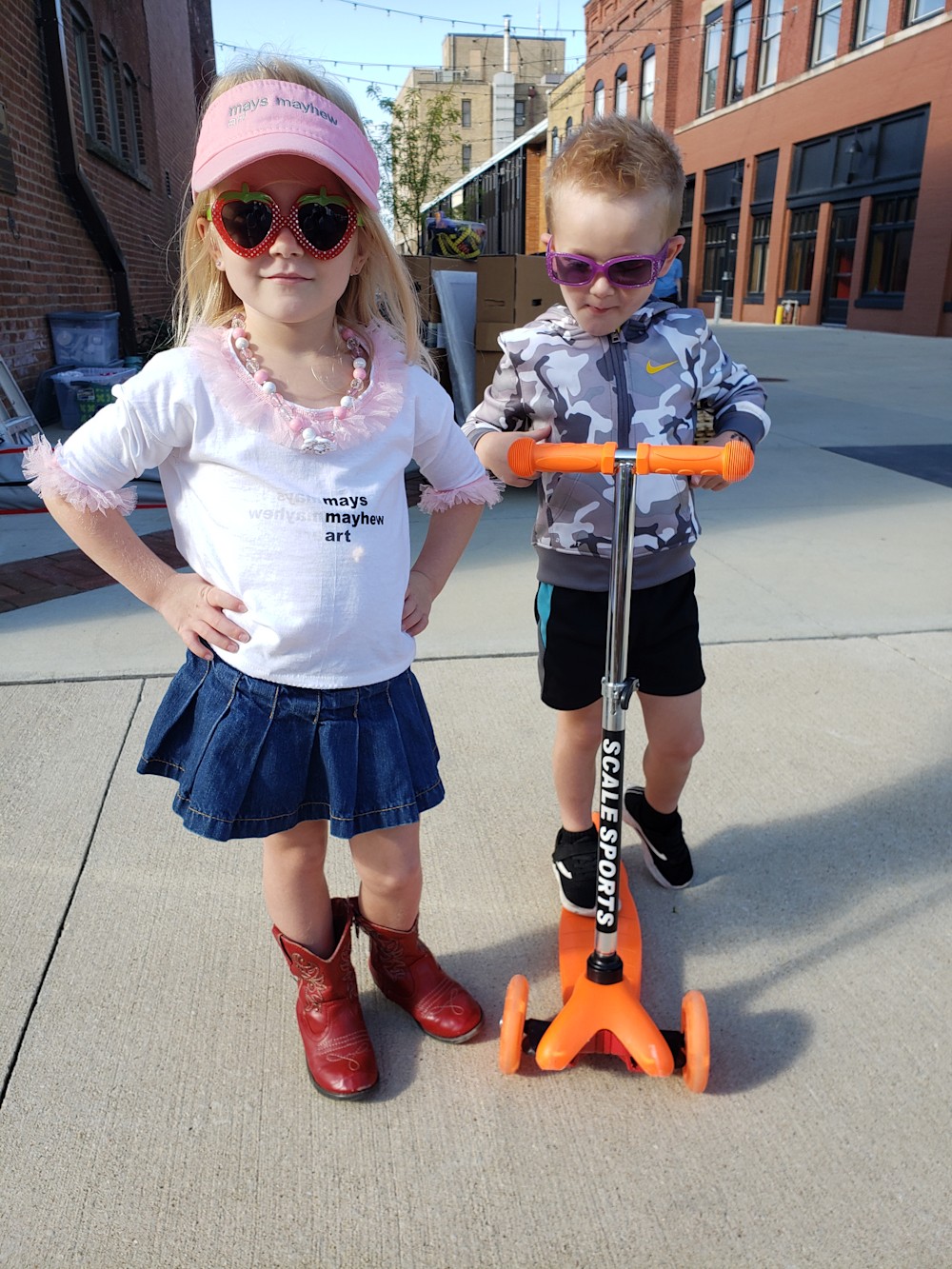 Have Independent Kids
Train the kids to be as independent as their age allows.
I'm always surprised by what mine can do. Every six months, they can do more by themselves. For example, after lunch, the kids play outside for an hour and then watch their homeschooling videos until dinner. They often get dinner themselves. Granted, I'm in my studio, and I can hear everything they do and say… but at least I can still work at my art practice. They can call for help anytime or get their "Love tank" filled. It's my goal to empower them to solve their problems themselves.
Train the kids to help out with housework.
At 7 and 6, they don't do the best job vacuuming (sometimes they do snow angels on the carpet after they're done), but they will if they start now when they think it's fun. I tell them, "You don't work; you don't eat." -Gently, of course, to instill a strong work ethic. Every day they do morning and night chores. That makes weekly cleaning easy.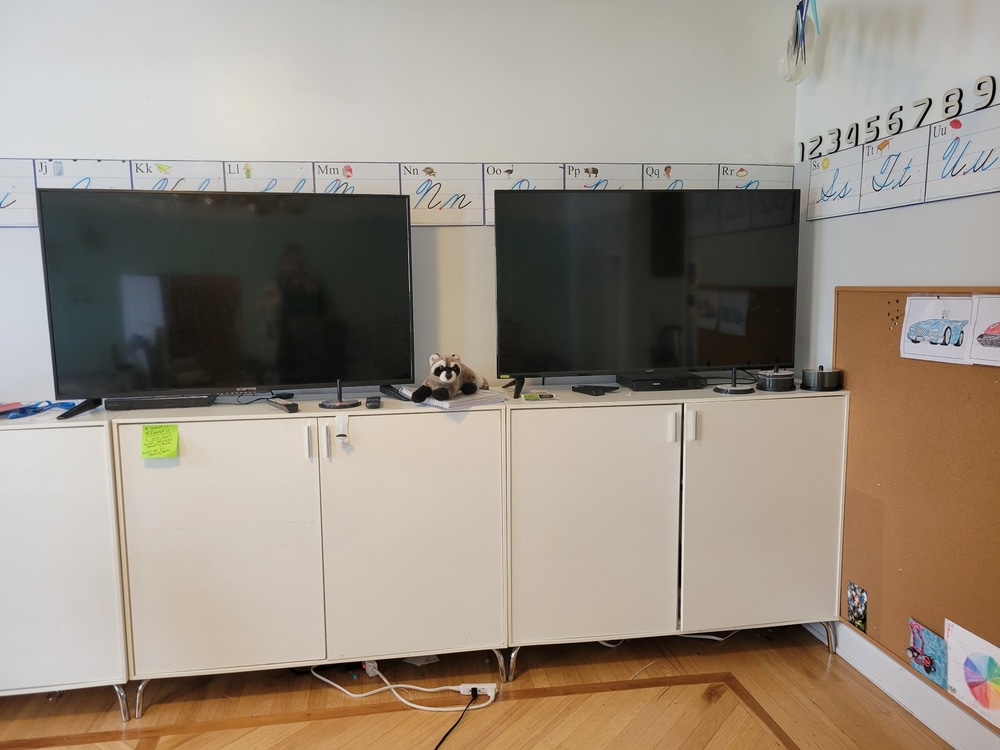 Have Space
Homeschool space. We bought our house with the intention of having a classroom and studio. We have a dedicated classroom. We are organized with our crafts, science tools, and textbooks. There is also two sets of TV's and DVD players for their learning videos so that they can watch at the same time.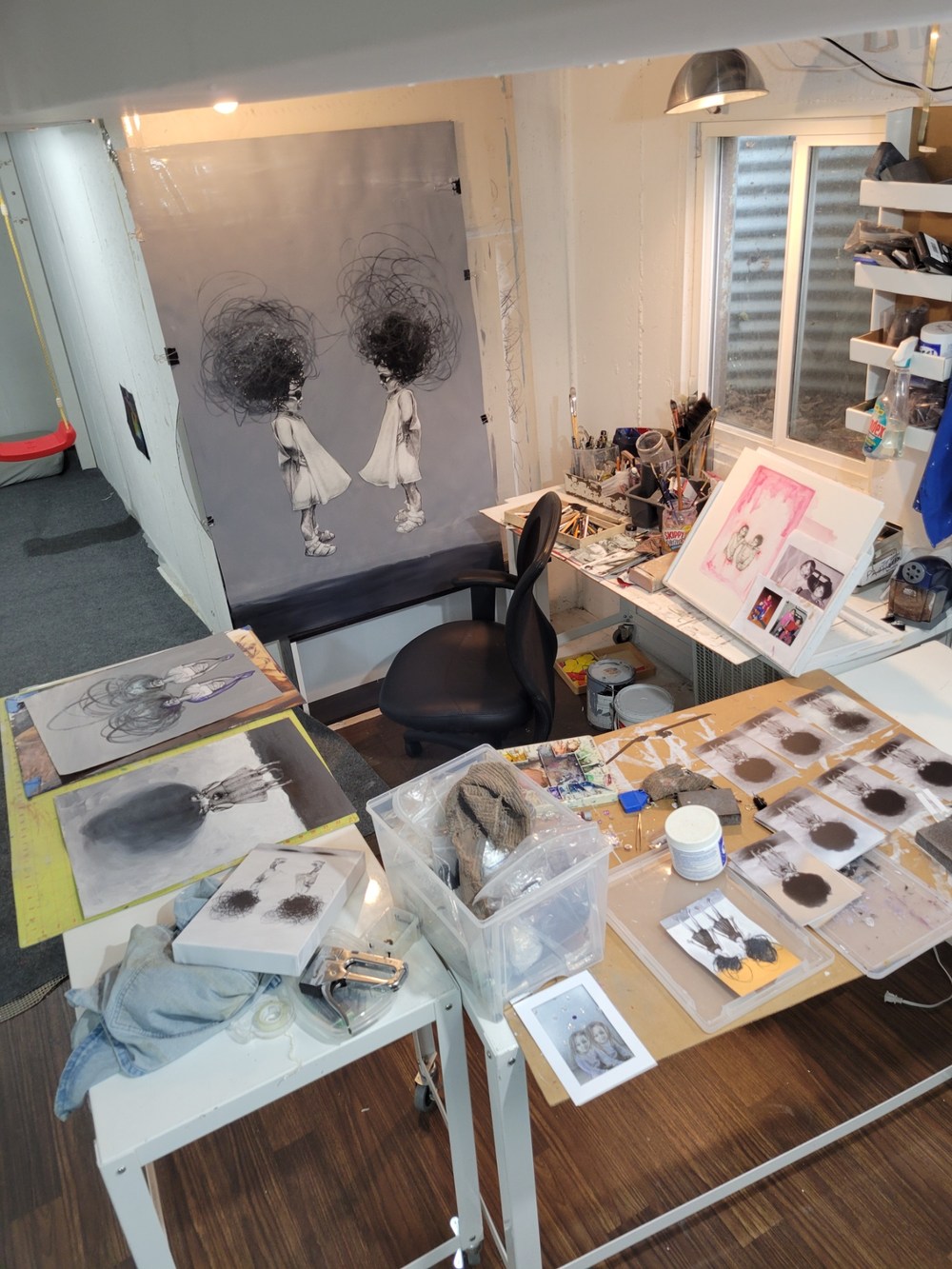 Studio space.
My studio is also a dedicated space. I built a kid's gym in an alcove next to my easel so the kids could be with me but not on top of me or my projects. My art studio is modular. I often change the layout based on the projects. I set up my 10'x10' booth walls in my studio so I could layout the paintings. It's really helpful to stage the booth in a dedicated space where I can stop working. The studio also has a lot of storage. I also have a wood shop in the garage.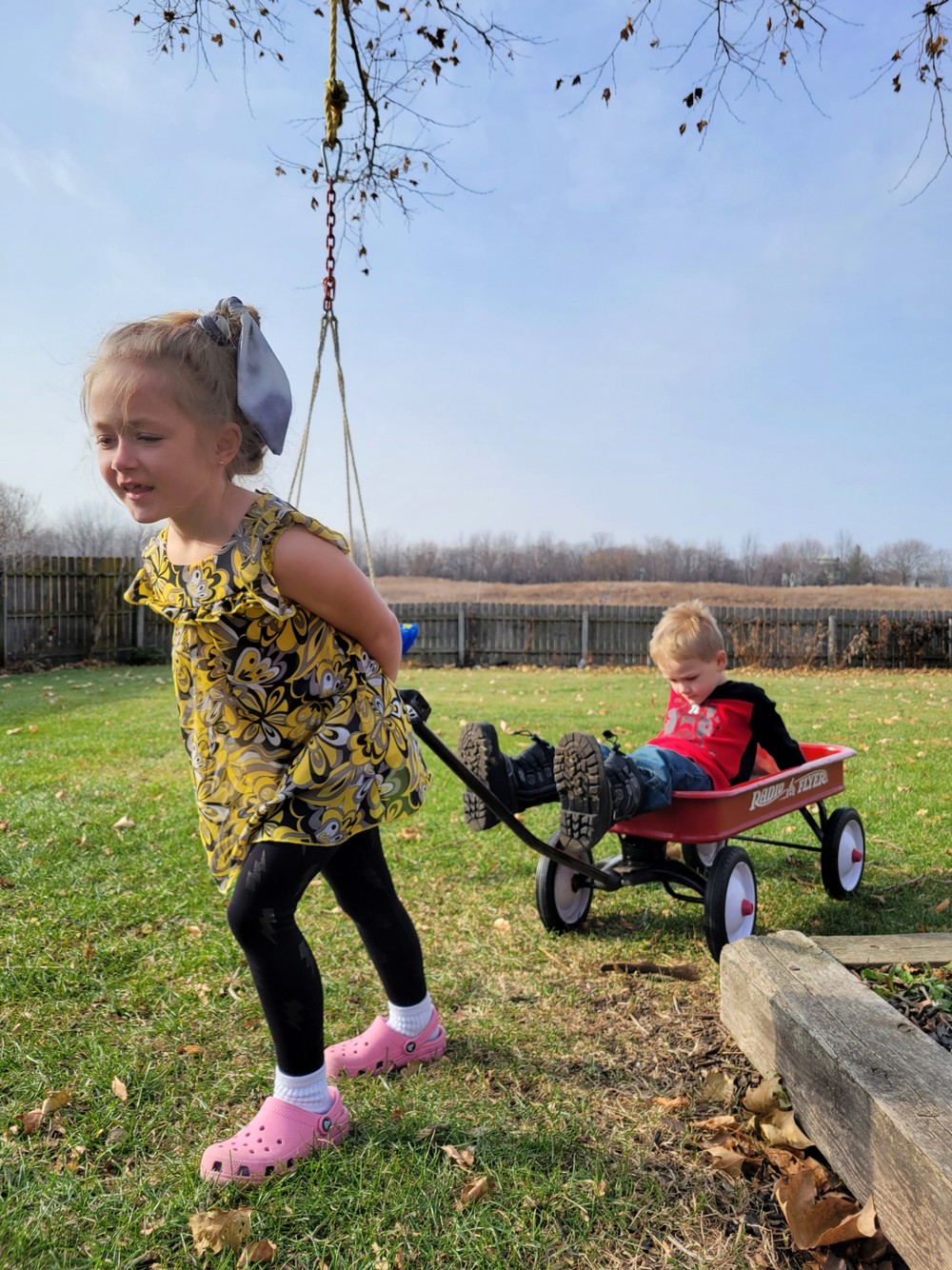 Outside space.
I grew up on a working farm so I feel strongly about kids being outside every day. The kids entertain themselves outside. Since I am in the studio while they are outside, we have an open window that opens up the backyard so they can talk to me while I work.
Do Blend Art and Kids
My art practice and child-rearing are intertwined. We are together 24 / 7. I love being with my kids (6 and 7). I take them everywhere, to art fairs, photoshoots, and art galleries. I enjoy being with them every day, even with the constant interruptions.
I love using my kids as reference models for my paintings, but it's also out of necessity. My kids are 1. easy to schedule a photo shoot, and 2. reshoot when the photos don't turn out. The other upside is they love it. They love bragging to collectors or anyone willing to listen. They are the subject of the painting.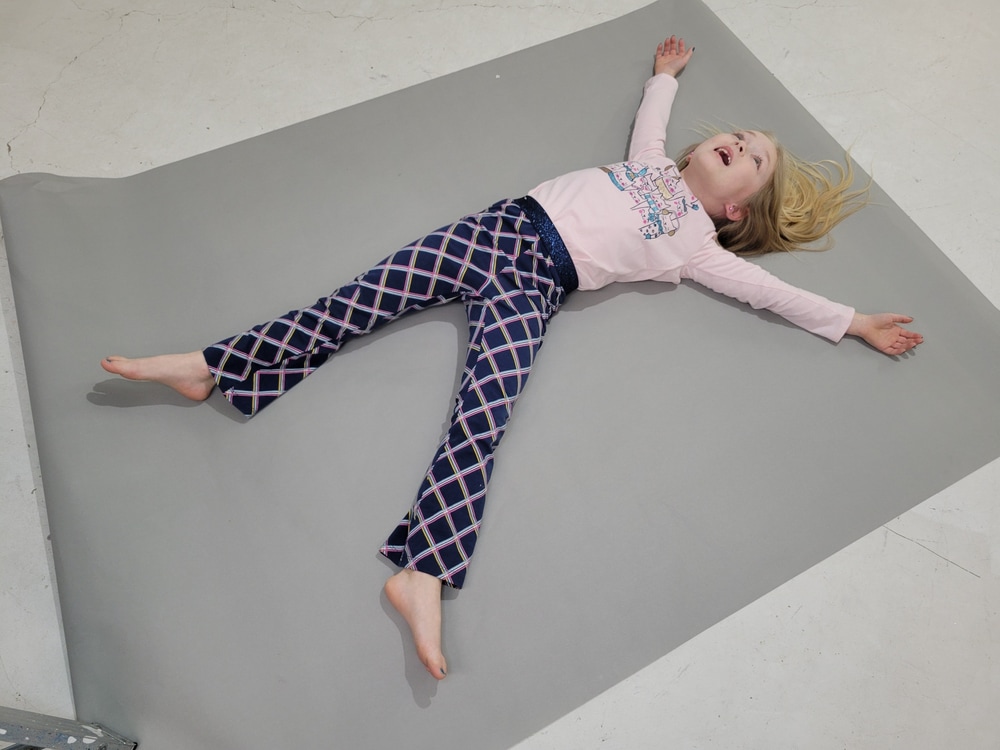 If my husband didn't help me with the kids or art fairs, it would be harder to maintain my level of ambition. It would be too complex for us. I average twenty-four events a year. I do art fairs that were kid-friendly. We've done fairs together since they were 3 and 4. My spouse takes kids during the day to explore the city. We make travelling fun for everyone. I can't imagine doing this schedule by myself, or being away from my husband and kids that much.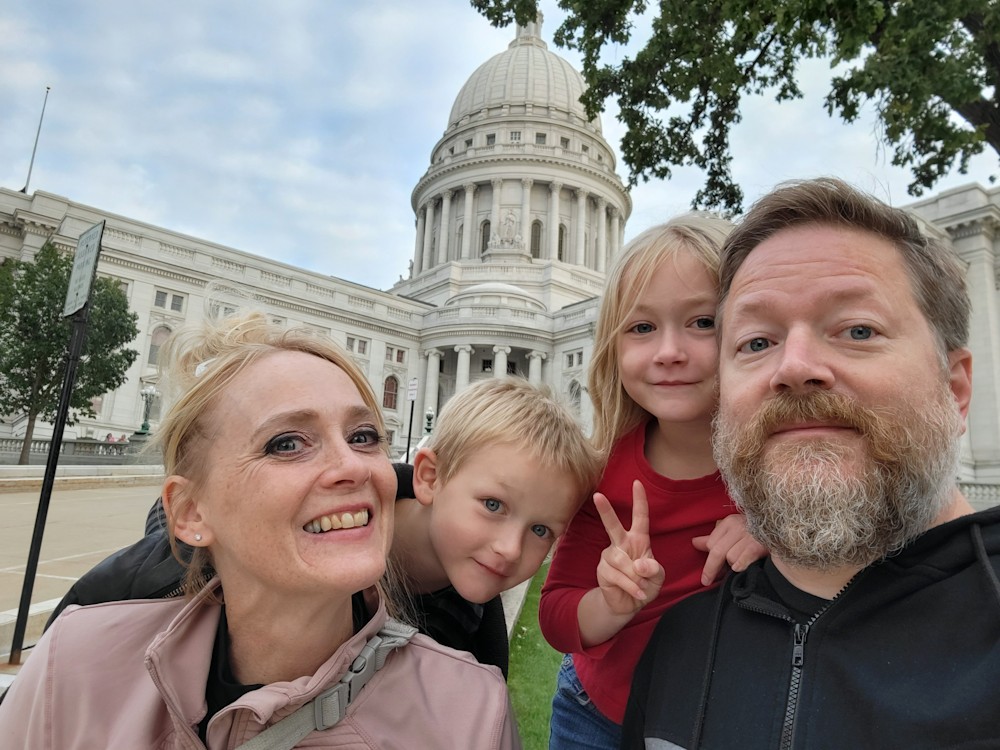 Do Blend Homeschool and Life
Experienced homeschoolers know that every day, all day, is a learning day. Since I'm teaching them, I have the luxury of picking out things in daily life they are learning about in school. When we go for nature walks, we talk about biology and science. A homeschool curriculum by Abeka (what we've used since K4) has proved the best for us since it is an all-inclusive school-in-a-box curriculum that is very easy to administer. There are no learning gaps.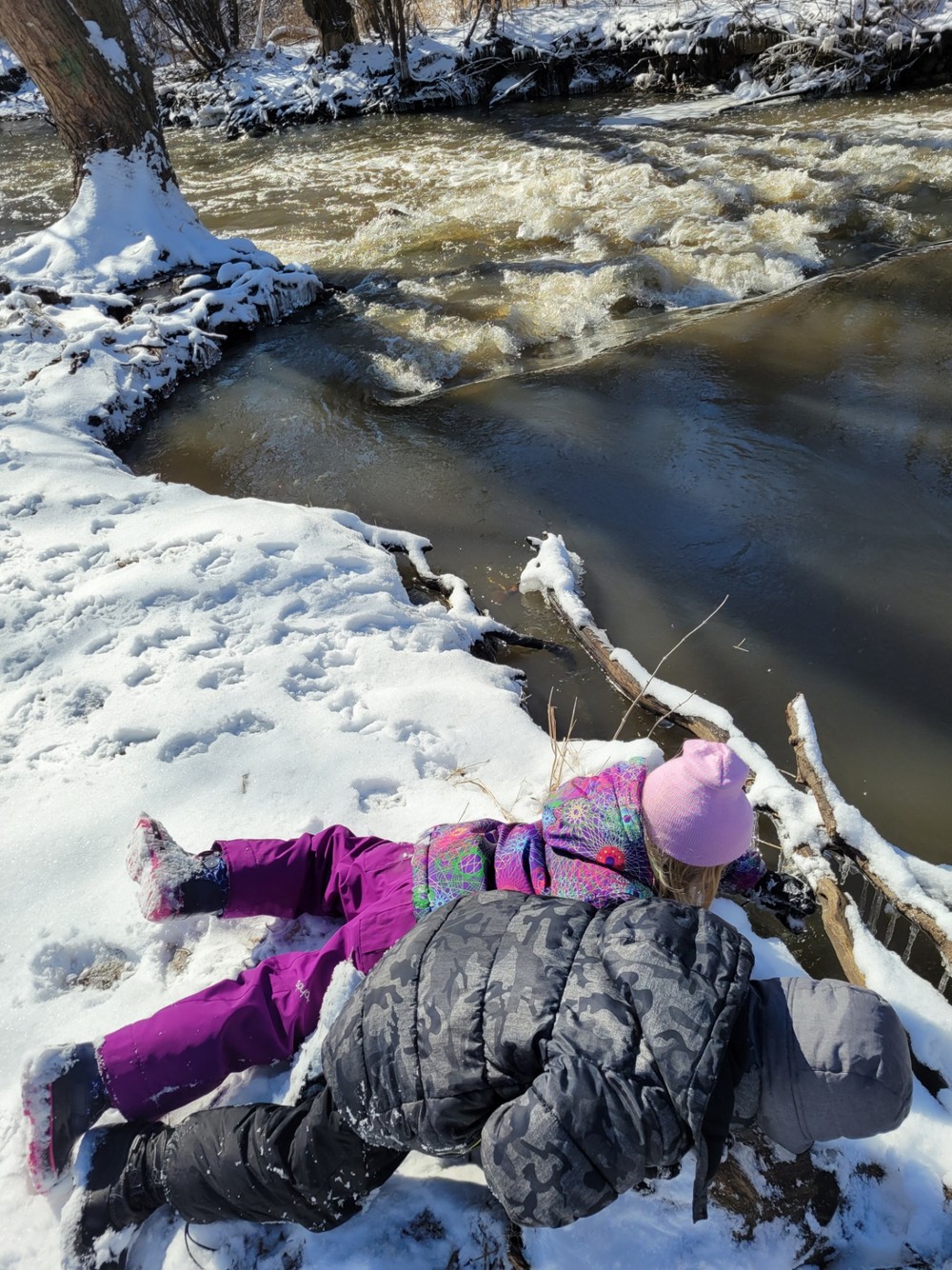 PRO TIPS
Have Time to Fill up their "Love Tank" 1st
To truly make all this work, I "fill up their love tank" first. I love being a mom. My job as a mom is to love, secure, and empower. I love and care for them first before the art or school. It's also the last thing we do every day. If they are feeling insecure, I'll stop and love on them until I'm confident they feel loved. When the kids were really little, I'd play with them first and then walk away after they were entrenched in imaginative play. My pro tip is if you've got a lot on your plate, this step can't be skipped or you'll have major problems later.
Have Flexibility
I've found that having an annual, daily and weekly routine proved a key component to success. We also discovered homeschooling year-round was liberating without the stress of following the public-school schedules. We are completely flexible to anything like kid learning opportunities, friends, and domestic obligations that include home ownership.
Use time wisely
We rarely use screens outside of school. No video games. No TV. (No, we are not Amish). When we watch movies, it's usually about science, nature or biography. We use those moments for Sunday family night. My time is too precious to spend 2 hours in front of a screen when I could be in the studio. TV and "following the news" are major time-wasters that take me away from my goals, so I don't do it. I aim to be a successful artist and mother who uses life to make a life.
Time is that wherein there is an opportunity, and opportunity is that wherein there is no great time. --Hippocrates