7 ways to travel well with kids [Road Trip!]
Jun 01, 2022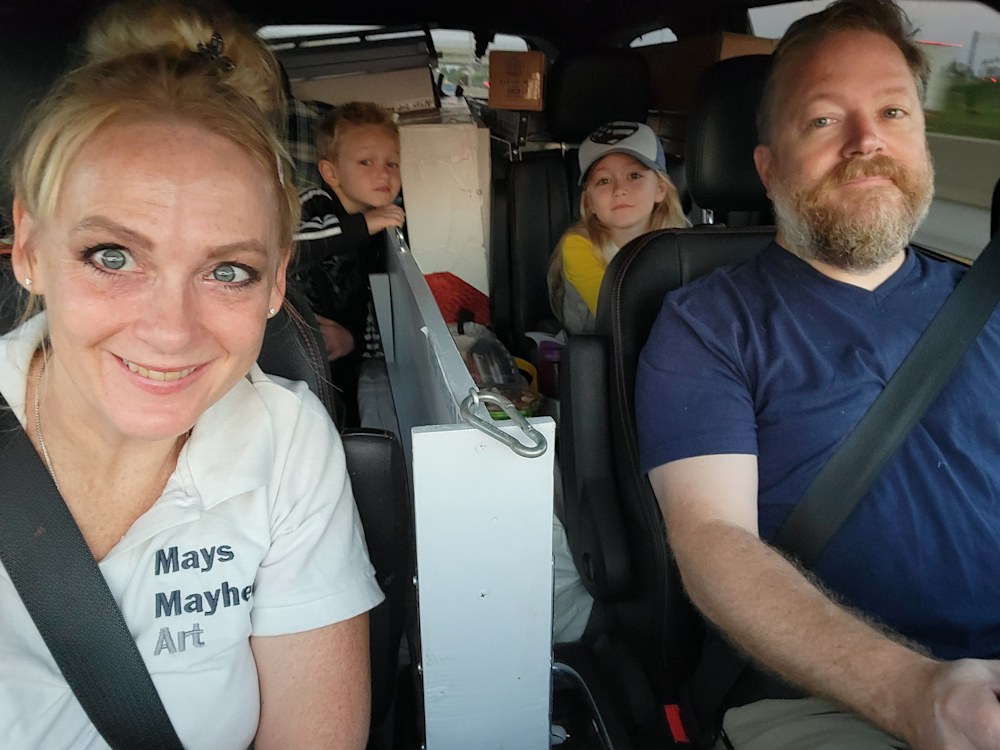 In an average year, our family takes 15 long-distance trips. My husband does the driving. I do operational management while our two kids are along for the ride. As an independent professional artist, I make my living at art shows around the country.
Road trips with kids can be fun, but they can also be a bit of a challenge. Over the years, we've learned what works and what doesn't. Here are a few pieces of advice for having a fun road trip with kids in the car:
Snacks
1. Pack plenty of snacks: This one might seem obvious, but it is worth mentioning. Kids (and adults) can get cranky when they are hungry, so make sure you have plenty of tasty snacks on hand to keep everyone's energy levels up. Bonus points if you can find mess-free snacks and will not leave crumbs all over the car.
I also look for snacks that travel well. My go-to snacks for the kids are Aldi's honey-wheat twist pretzels because they take a while to eat and are clean. I also love packing individual snack bags with nuts and dried fruit. I pack all the car snacks in the same green bag and plant it right behind the driver's seat.
Pro tip, bananas do not travel well. Why not? Try it. You'll find out real quick.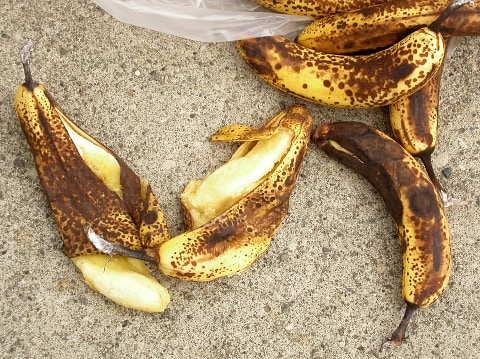 Entertainment
2. Bring along some entertaining car games: To keep the kids entertained during the trip, it is a good idea to bring along some car games they can play. These could be things like "I Spy," "20 Questions," or "Car Bingo." I found "Car Bingo" at the dollar store. You can also bring a pack of cards or some travel-sized board games for long trip stretches. Since I'm an artist, our favorite is "I'm thinking of a color (sub in your favorite noun) that begins with …" If the color (noun/etc.) isn't guessed, we say, "next letter," until it's guessed or spelled out. We have played that game in the car since my youngest was 3.
Pro-tip, explain the rules before any game starts, i.e., the Name must be on a paint tube versus a color of an object, like "Expresso."
Activity bag
3. Make sure everyone has a designated "activity bag": To avoid the "I'm bored!" complaints, make sure each child has their own designated "activity bag" filled with things like coloring books, stickers, small toys, and other entertainment options. This will give them something to do during the trip and keep them from getting restless.
I ensure each kid has a backpack filled with new library books, exciting toys they haven't seen in a while, and various activities. I ensure that each of their bags has books, art supplies, toys, and a snack.
We also have lap desks (shown below) since the kids like to draw.
Pro-tip, let the kids pack their bags, then before you leave, add something you know they'll love without them discovering it until everyone is on the road. Don't trust your kids entirely. A few times, I forgot to check my son's bag. My son only packed two things in his bag, and then 3 hours later, he complained about boredom. Don't let that happen to you. Pro-tip #2 - make sure you don't pack the Activity Bag underneath everything else. I like to "stage" the car a day in advance to ensure that doesn't happen.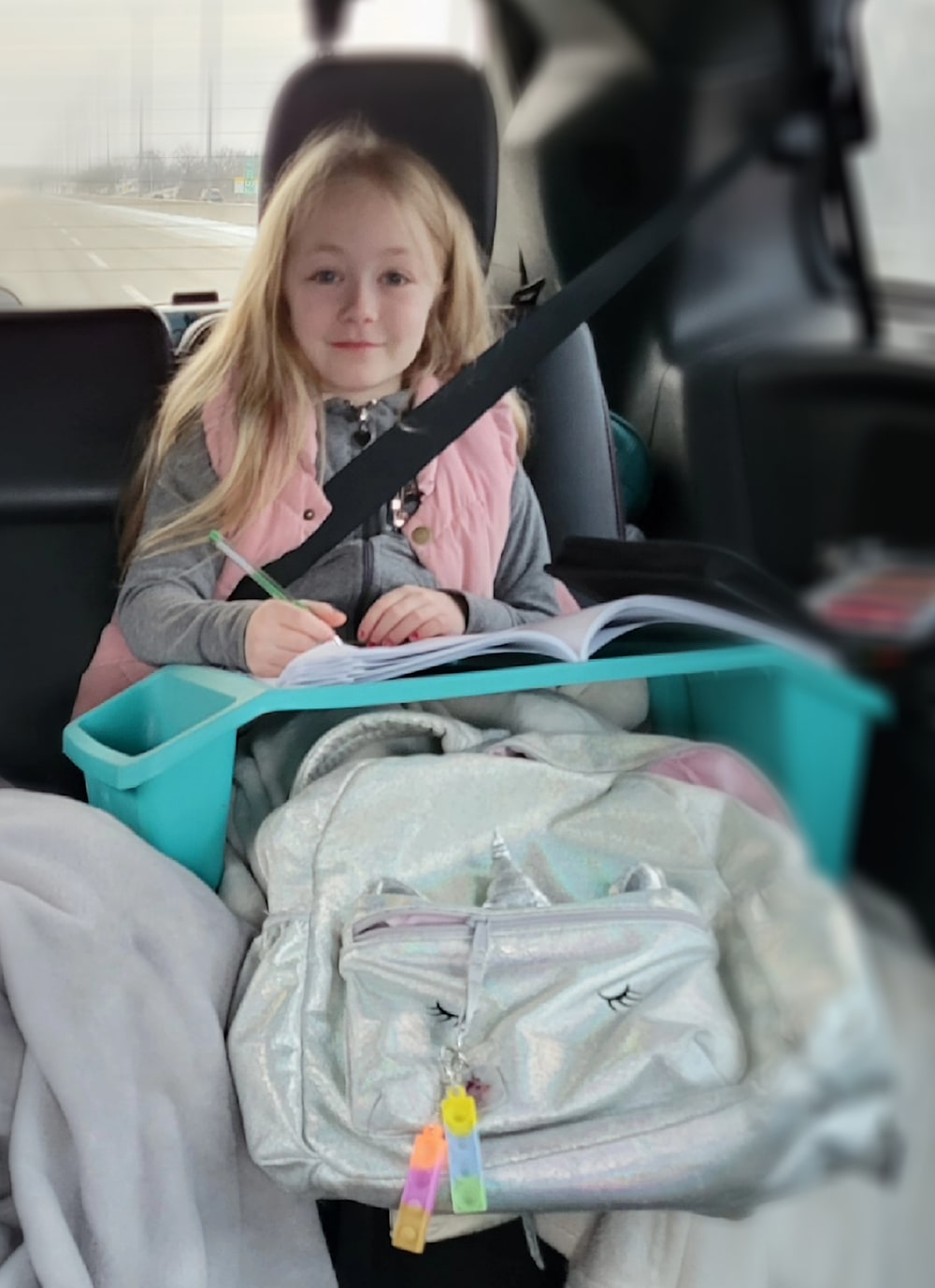 Breaks
4. Take plenty of breaks: Road trips can be tiring, especially for young kids who are not used to sitting in a car for long periods. Make sure to plan regular breaks along the way to allow everyone to stretch their legs, use the bathroom, and get some fresh air. These breaks can also be an excellent opportunity to explore some sights and attractions along your route.
I will research our route before I leave to look for a point of interest. Some they know about. We always stop at a familiar rest stop in WI that the kids enjoy. Sometimes I don't tell them about the break. I like to be spontaneous.
Pro-tip, try to find a point of interest for everyone at some point, including the adults. One year we all drove up to the Wausau Art Museum, a 4-hour drive, to see my work in a show. I found a nearby brewery for us to tour. My husband still talks about it three years later.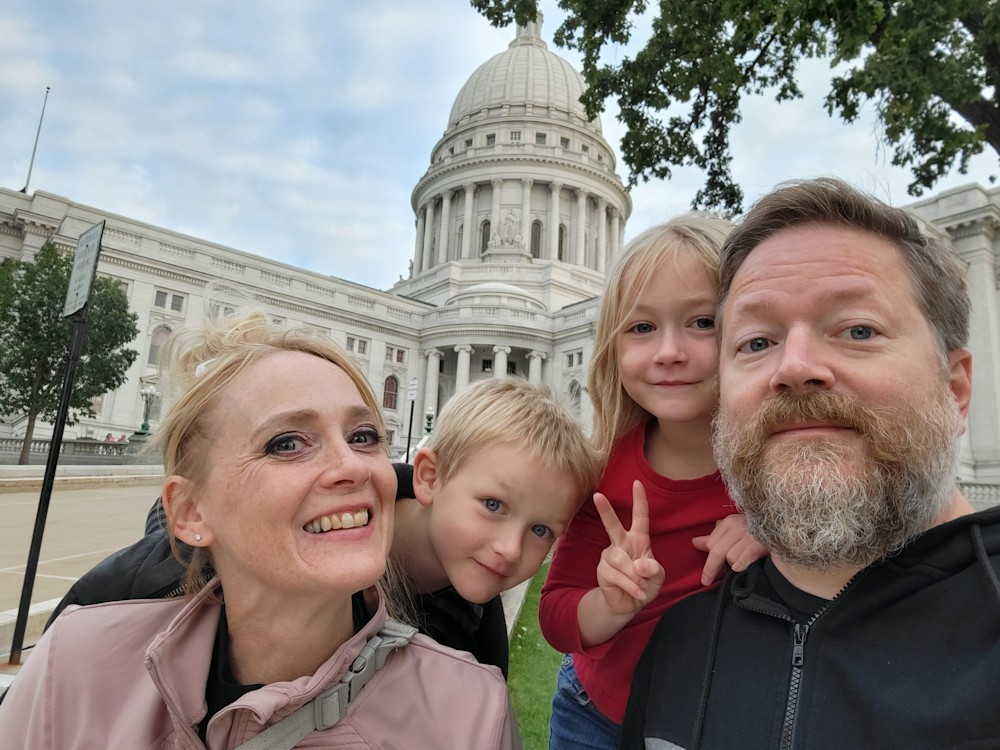 Audio
5. Remember the music: Music can be a great way to set the mood and keep everyone in a good mood during the trip. Consider making a playlist of your family's favorite tunes to play during the drive, or allow each family member to bring along their own playlist to share.
One activity we love is "DJ, play a song" in the car. I understand this is not for everyone, but it does stave off boredom. This is how it goes. First, ensure the phone is hooked to the car's speakers; we take turns with song requests. Second, each person requests a song in turn. We don't always agree with the song, but everyone gets a chance to have their song played. Full disclosure, I don't enjoy all of the songs. My daughter loves the "SING" soundtrack and knows every single word to all the songs. Loudly. However, she is having so much fun singing loudly that I can't deny her requests.
If you can't agree on music, consider audiobooks. One of our good friends, Mary, listens to books on tape with her family of four. You can rent CDs from the library, use the Hoopla app, and play the audiobook on your phone via car speakers. Mary has two boys, 9 and 8. She says, "Some of our favorite audiobooks are Alice's Adventures in Wonderland (narrated by Jim Dale - anything he does is wonderful), Narnia series, By the Great Horn Spoon, Rascal by Sterling North, Gone-Away Lake, Five Children and It, Henry Huggins collection, Emily's Runaway Imagination, the Mrs. Piggle-Wiggle books, Treasure Island, etc."
Pro-tip, for long trips, you can make the "DJ, play a song" into a game by thinking of songs with a particular word in the title. We've found that it's more fun when everyone gets a turn to choose the music.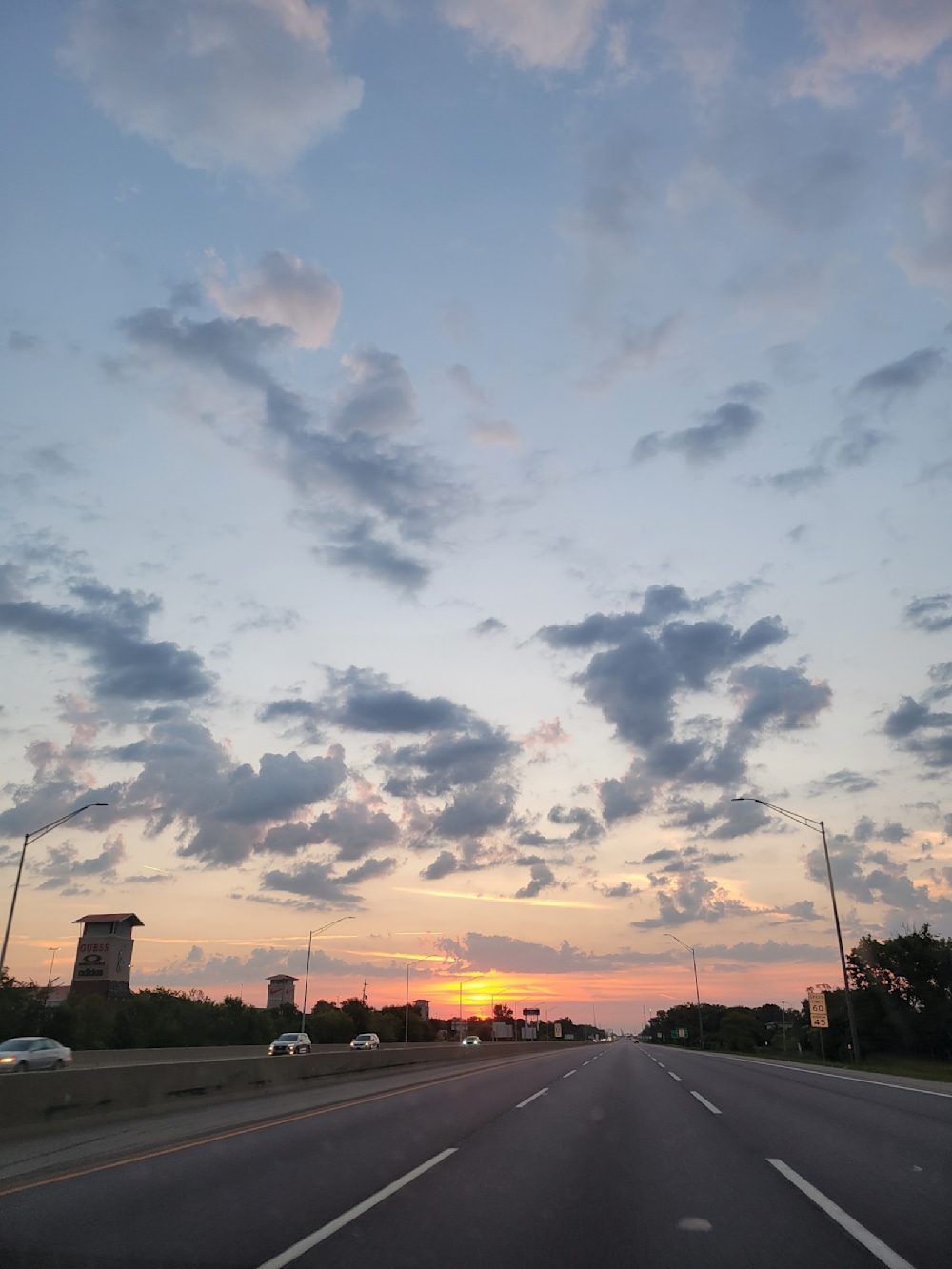 Comfort
6. Make sure everyone is comfortable. Everyone gets a small pillow and blanket for long trips—even me. Our minivan has a temperature control for every seat, but it isn't good enough. I'm always cold. My kids are all over the place with being hot, cold, or fill-in-the-blank. When people can put on or pull a small blanket, they are much more comfortable.
Some friends of ours always travel starting at their kid's bedtime. That has never worked for us, but maybe if your kids are small, it will.
Some of our art fair artist friends switch off drivers to make the trip more comfortable.
Pro-tip, make sure the kids are old enough to drive before team driving.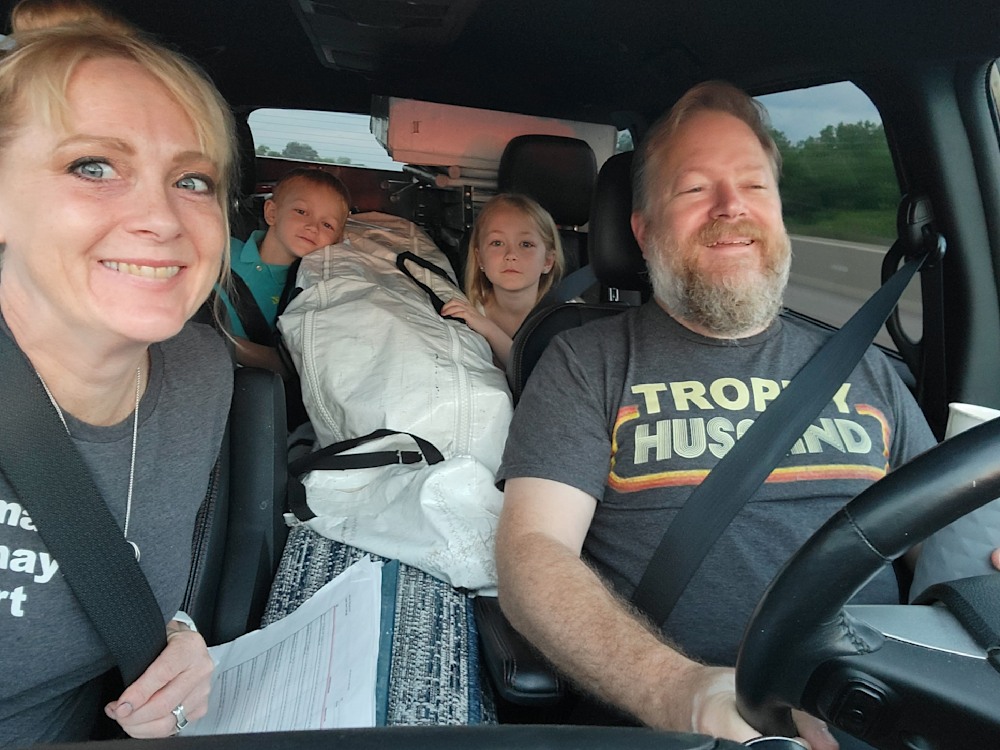 Enjoy it ALL
7. Embrace the chaos: Road trips with kids can be unpredictable, and it's important to remember that only some things will go according to plan. Embrace the chaos and roll with the punches – sometimes, the best memories are the ones that happen when things do not go exactly as expected.
Sometimes, shoes need to be remembered. (Happened twice already by my son) Sometimes, the most important thing is that we are creating memories for the family.
It is also a good idea to plan for any potential setbacks or delays during the trip. This could include things like traffic, construction, or car troubles. It is essential to stay flexible and be prepared to change your plans.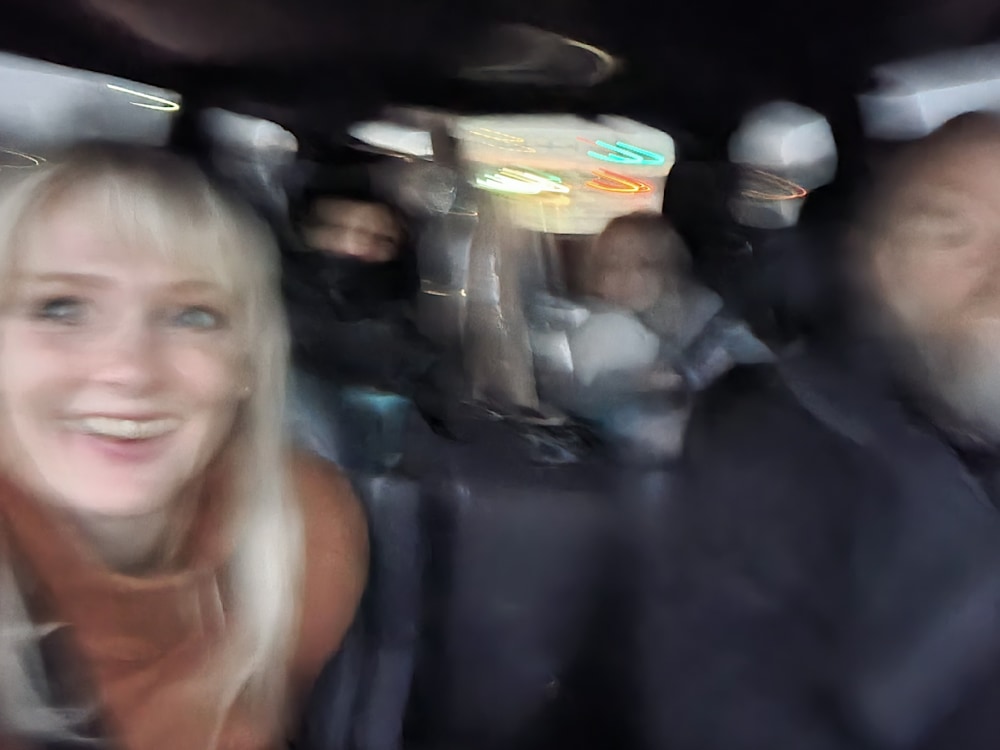 This picture is blurry because the drive was bumpy.
These tips worked for us. Hopefully, they'll inspire you to have a fun and memorable road trip with your kids. Just remember to stay patient, stay organized, and have a good sense of humor – and most importantly, enjoy the ride!
Don't forget to have fun!