10 Worth-It Reasons to Go [Art Shows]
Feb 01, 2022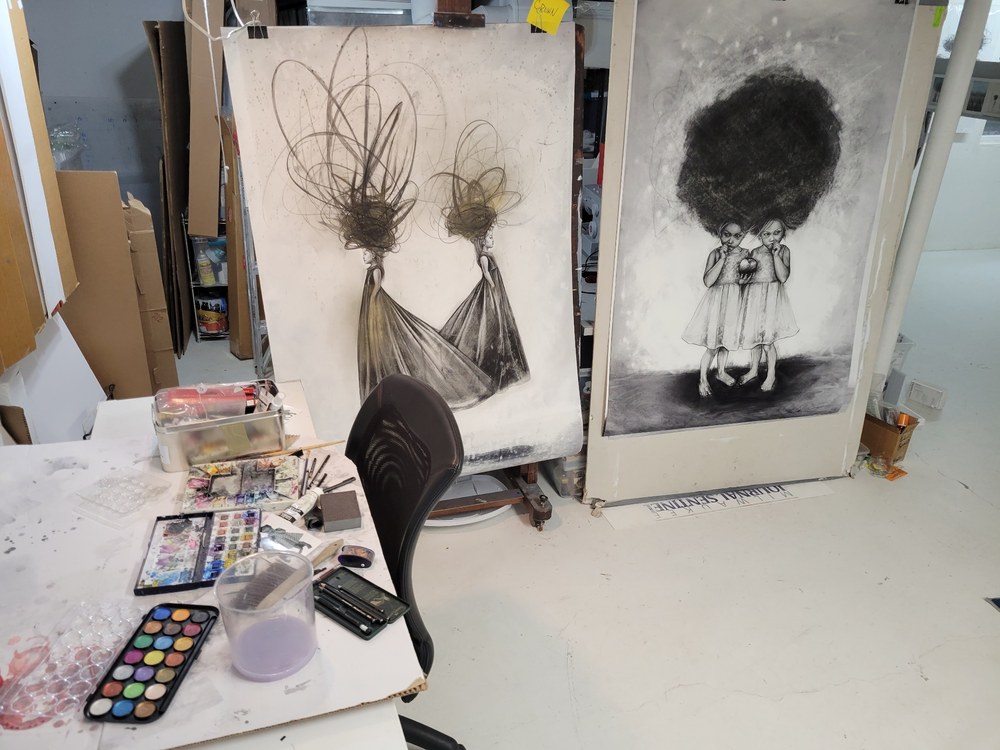 On April 2nd my art studio will be open to the public for 1 day. In addition, I've invited 2 other accomplished artists, Janice C. and Rosalie V. to exhibit. If you've never been to an artist's open studio, this is what you can expect at mine. I have a home-based 1200SF art studio that is half work space and half gallery space. I also have 2 rooms on the main floor that function as a gallery space as well. That is where Janice and Rosalie will be.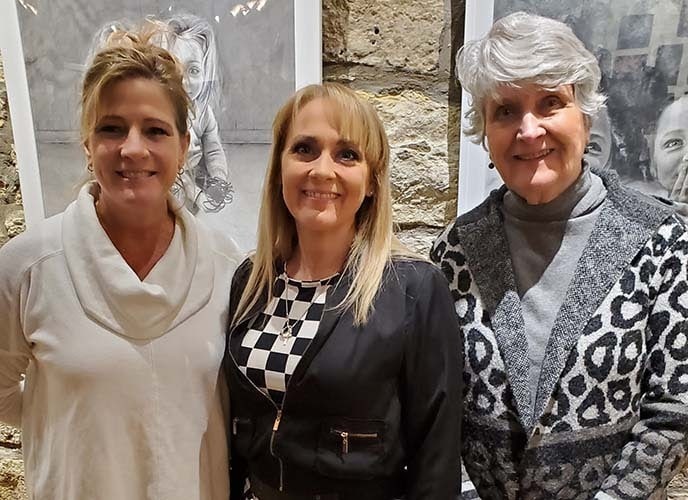 Janice Czerwinski - Waterscapes - janiceczerwinski.com @janice.czerwinski
Rosalie Vass - Whimsical watercolors - rosaliewaraniusvass.com @rosalievass
Here are 10 reasons you should attend Open Studio events…10 reasons why you don't want to miss out on this special opportunity.
1.See behind the scenes. It is a rare chance to see an artist studio. It's difficult for artists to clean up and make room for the public. Many artists don't want the public to see their space.
2. See how art is made. There is nothing like experiencing a space first hand to really understand the art. You may learn new techniques you can apply to your own art practice. My son's favorite show is "How it's Made" that we watch together as a family.
​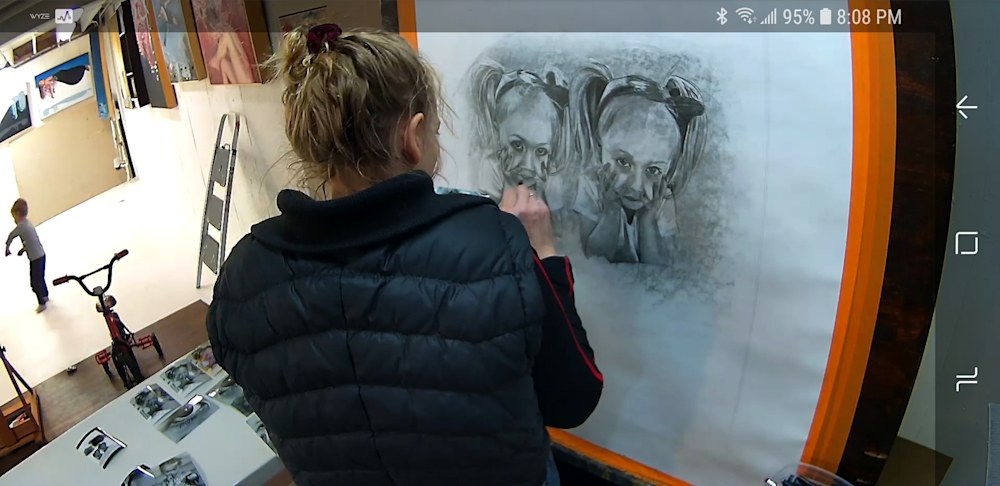 3. Get in-depth understanding of the process. Artists are inextricably linked to their product which makes viewing their work space better than seeing a common object (like a nail) mass produced in a video. Open art studios show the process. It is visible and immediate. Seeing art materials, tools, and substrates next to the art explains its fabrication unlike seeing the finished piece on Instagram or Facebook.
4. Get studio organization ideas Mine is set up in 3 parts – creating, displaying and storage. I have a play gym for my kids in my studio as well.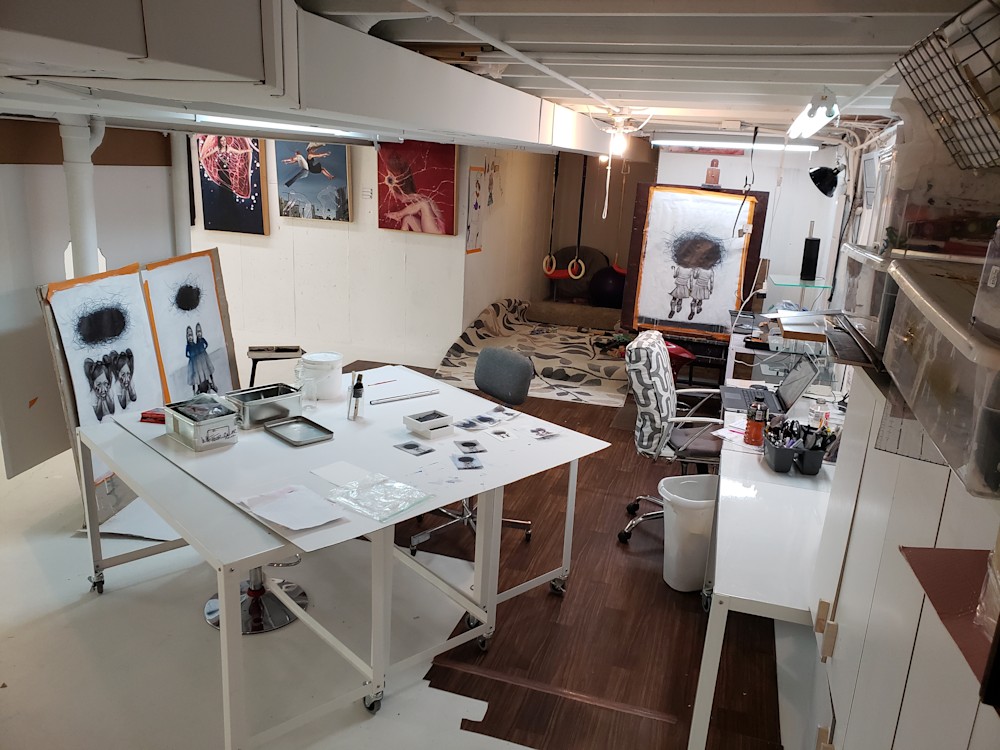 5. Experience art in person. Art must be experienced in person to truly get a sense of its magnitude. Sure, you can see it online, but you won't be able to walk around it or see it in an actual environment. I use a lot of metallics and watercolors which subtleties are hard to distingue on screen.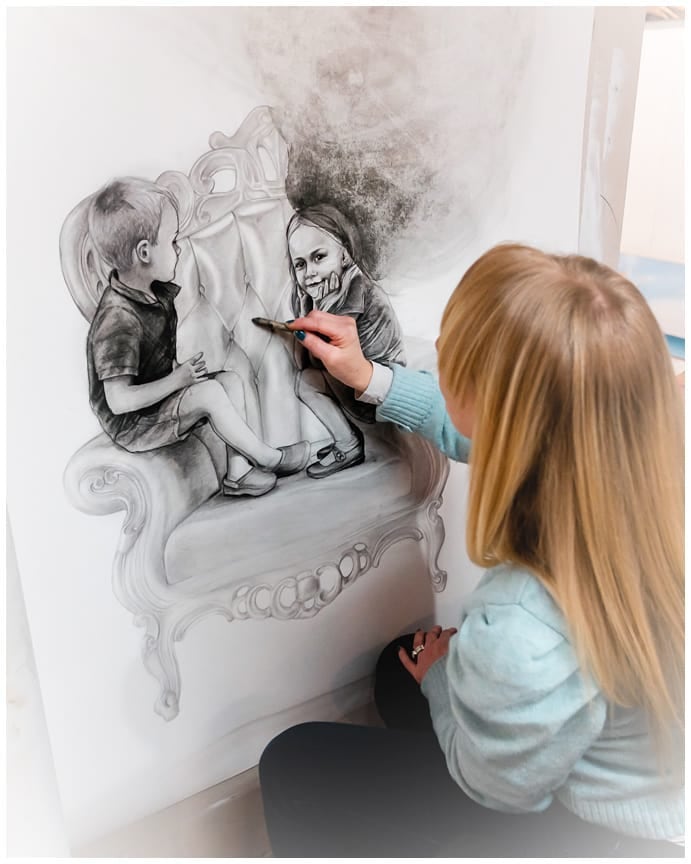 6. Experience a complete body of work This gives you a unique insight into how they developed as an artist. (At mine, I will have artwork spanning 20 years!) It visually shows the autobiographical journey of the artist. This is true of any solo show as well.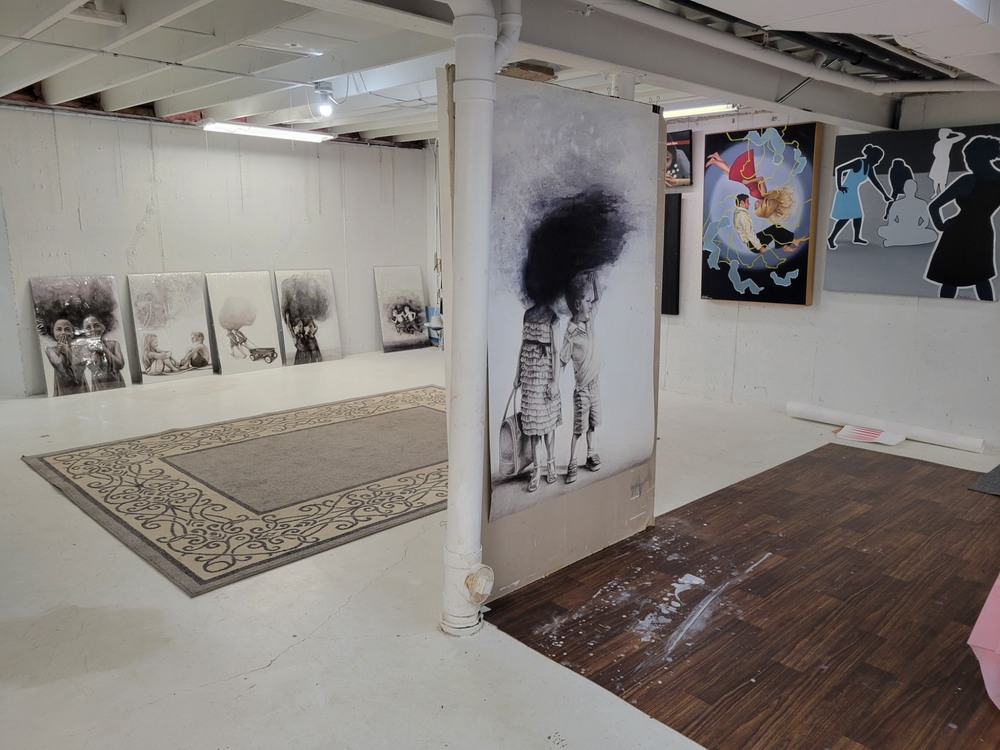 7. Meet the Maker. Unlike visiting a museum, gallery, or seeing art online, Open Studio's and art shows give you the opportunity to meet the maker. Open studio events are typically smaller than solo or group shows which allows for a more in depth conversation about process. Can you guess what my favorite topic is? You're right - Art! So if you want to meet me and talk about art, you'll be in the right place.
8. Buy a piece of art from where it was made. What better way to add to your collection then getting it from its birth place? There's no question to its provenance when you see the artwork in the makers studio.
9. Get more like-minded friends. You'll meet local artists who are on top of their game from Aurora, St. Charles, Batavia, Naperville and more. Share your own art loving experiences with others that will appreciate it in-person. Connecting with other artists and art lovers is truly worth the time.
10. Have fun! Listen to live music by Joe Eddy and Richy playing acoustic while having a glass of wine talking to friends about art. -Now doesn't that sound like the perfect afternoon?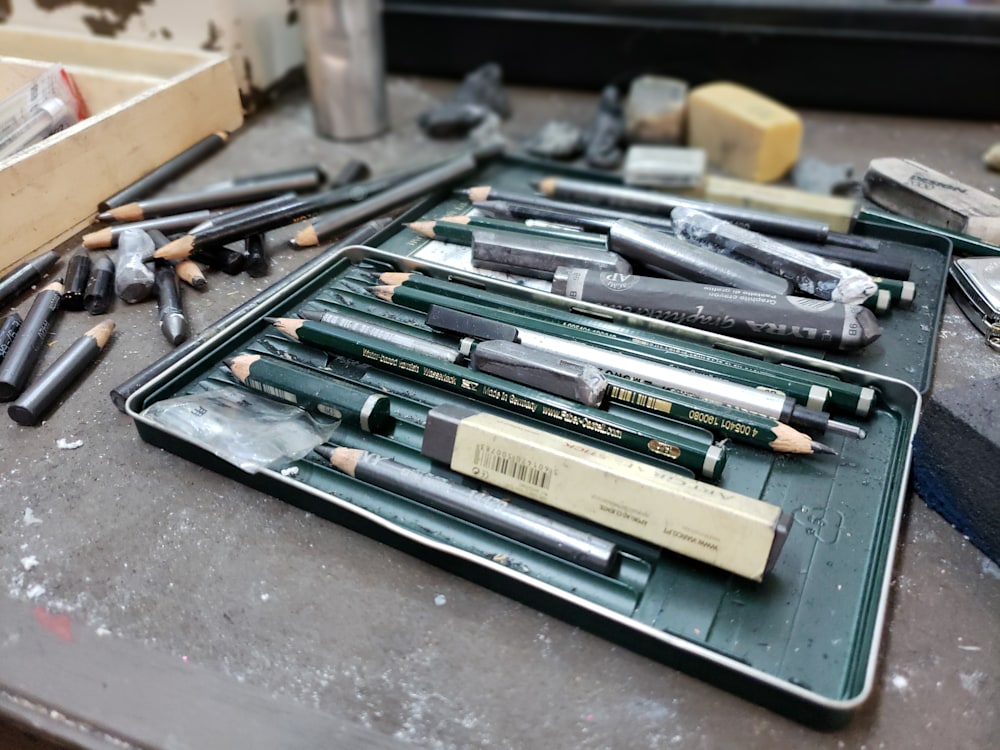 This event is one of two Open Studio events I do a year. If you can't attend the Open Studio in April, please save the date for the next one in November.
I look forward to seeing you in person!
April 2nd, 12-5p
2525 Coach & Surrey Ln. Aurora, IL
Live music. Snacks & libations served.
Prints and originals available for purchase.
Free and open to the public
https://www.maysmayhew.com/open-studio-3-woman
PS
If you can't make this Open Studio + Art Show the next one is in November. 11/5, 11/12, 11/19 for my annual Black Friday Sale.